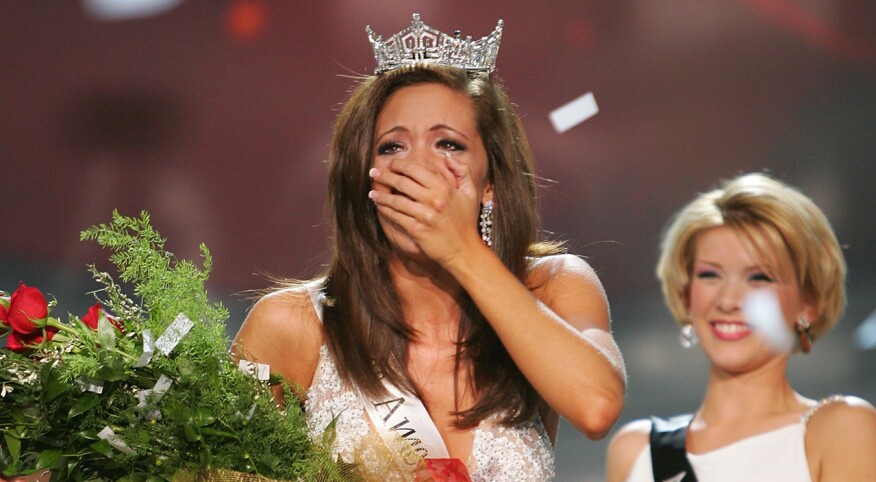 I had Miss America 1972 figured out well before I met her. Laurie Lea Schaefer was the conservative one, my research told me. At age 22, she told the press she was a Richard Nixon fan, and opposed to marijuana and premarital sex. The world was on fire around her, but she kept her hair in a perfect Jackie Kennedy flip and professed that she had never owned a pair of jeans.

When writing my book about the rise and fall of the Miss America pageant, There She Was: The Secret History of Miss America, I found it imperative to go into an interview well-armed with this kind of background knowledge.

It's not that Miss Americas are evasive or forbidding interview subjects. They're warm and gracious; they answer their own phones and chat at length, no publicist setting limits. After all, most don't have publicists: They were famous (sort of), but only for a year, a long time ago.

But that microdose of fame inoculated them. At a young age, they learned to maintain control of interviews, rattling off such charming tales ("and then, when they tried to put the crown on my head …") that it's only later you realize how many times they've deployed that sweet, slight story before. So, before we would talk, I would try to read everything about them, including the things that didn't make their personal highlight reel — the health crisis, the forgotten gaffe, the love affair gone wrong.

A tossed-off comment that Kellye Cash, another Miss America, made during a long-ago appearance on Larry King Live helped me trigger her 1980s memories of going to the gym for the first time — a story that opened a rich new inquiry for me into how the dawning fitness movement altered pageant women's complicated feelings about walking in front of cameras and judges in their swimsuits.

Determined to read everything I could about the legendary Vanessa Williams — the first Black Miss America in 1983, who was forced to give up her crown after Penthouse published nude photos she had been conned into posing for as a naive teenager — I stumbled upon a forgotten story almost as poignant as hers. That was the saga of the Miss Texas from that same year who tried to improve her chances of winning the crown by getting breast implants and a nose job — paid for by her local pageant bosses.

When word got out, Dana Rogers was shamed by the national media, which treated her like a doping athlete, a fake. And yet during her week in Atlantic City, she told me, one contestant after another whispered to her that they had had cosmetic surgery, too.

"I never thought, Why aren't you telling them?" she recalled in our interview. "I thought, Well, don't tell a soul."

Schaefer's historic context was clear to me, though — or so I thought ahead of our interview. The Miss America who preceded her was Phyllis George, the vivacious Texan who would set the pace for so many young women entering the work world in the 1970s with a glass ceiling-cracking career in sports broadcasting. Two years later, the pageant would crown Rebecca King, who further broke Miss America's debutante mold with her long Jan Brady hair and ambitions to become a judge.

I took a winner like Schaefer, then, to be the pageant's cyclical way of reverting to form — stoutly celebrating an old-fashioned kind of girl at a time its dusty traditions were being challenged by the feminist movement. Then I got her on the phone. How had she felt about all the reporters quizzing her about her political views at her debut press conference as Miss America? I assumed that the media scrutiny was the most interesting aspect of her year.

"Well, I was the one who started that," she told me.

At first, I was confused. But then she went on to unlock for me another new insight into the Miss America experience — one that I hadn't yet detected in all my careful research.

Before Schaefer, I learned, a Miss America was never supposed to talk politics. The pageant was an institution beholden to corporate sponsors and heartland boosters. Politics was just too risky. If anyone asked for her views, a Miss America was expected to "no comment." When, at the height of the civil rights movement, a reporter asked Debbie Bryant, Miss America 1966, about the lack of Black contestants, the pageant's director hustled her out of the press conference, huffing that Bryant "shouldn't have to answer a question about a national problem."

But Schaefer was intrigued by questions like these. At 22, somewhat older than previous winners, she was developing some strong opinions. She had been jeered at by campus protesters while wearing the uniform of the Air Force ROTC women's auxiliary, and she was concerned America wasn't doing enough to support its troops. If reporters asked her about Vietnam — or abortion or the election — she didn't want to "no comment." So, she told them exactly what she thought.

Journalists were delighted. At a time when members of the media were scrambling to figure out what the kids were up to these days, here was an ambassador for a certain kind of mainstream youth who was willing to hold forth. And it turned out Schaefer's views were far from doctrinaire conservative: She harbored concerns about missteps in Vietnam and asserted that women should have the right to choose an abortion.

It turned out that the fact we even knew she had conservative views made her, ironically, a progressive figure within the Miss America world. Her pageant bosses were pleased with her media coverage — far more dignified than the simpering stories about a Miss America's hairstyles or boyfriends. It empowered her successors to also express their opinions. Which, frankly, made the entire Miss America ritual a little more interesting at a time the pageant was at risk of falling off the pop-culture radar.

History so often focuses on the trailblazers. Liberal or conservative, Miss Americas were hardly in the vanguard. But what I discovered from talking to Schaefer — who now goes by Laurel Schaefer-Bozoukoff, working as a casting director in Washington state after a career as an actress — is that you don't need to be the leader of a social movement to tell a significant story about it. There's value, too, in the stories of the people buoyed along by social change, like this confident young boomer finding her voice in the early 1970s.