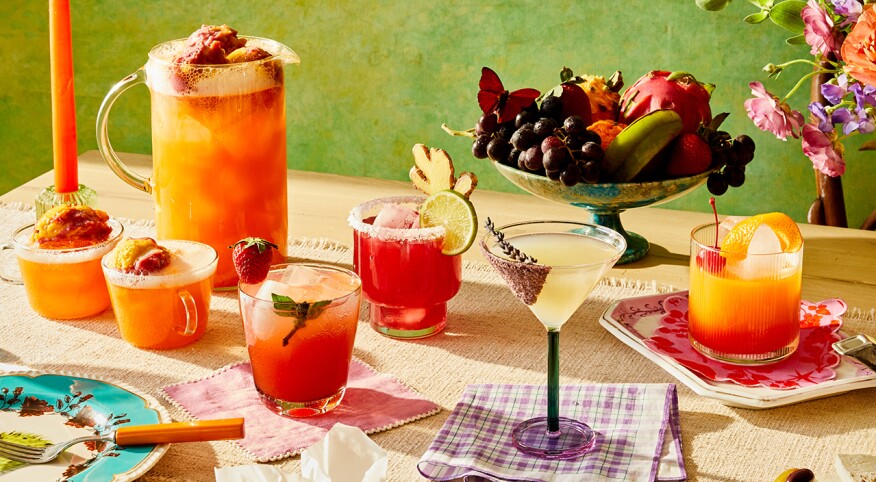 After a long winter, nothing is more welcoming than spring's sights, sounds, and flavors. The trees turn a vibrant green, the sky a robin's egg blue, and budding flowers are a burst of color in our neighborhoods. But, of course, it's also the celebratory season of Passover, Easter, Mother's Day, St. Patrick's Day, Mardi Gras, and more.

One of my favorite ways to celebrate spring is hosting garden parties for family and friends. This is the perfect time for beverages made with seasonal ingredients — berries, fresh herbs, rhubarb, cucumbers, carrots, citrus fruits and flower-infused cocktails. For example, a simple glass of champagne can be elevated into a delightful spring cocktail with flavored syrups, berries, or freshly squeezed fruit juice. Here are some delicious cocktails and mocktails that embody the taste of spring:

Lavender Lemon Drop Martini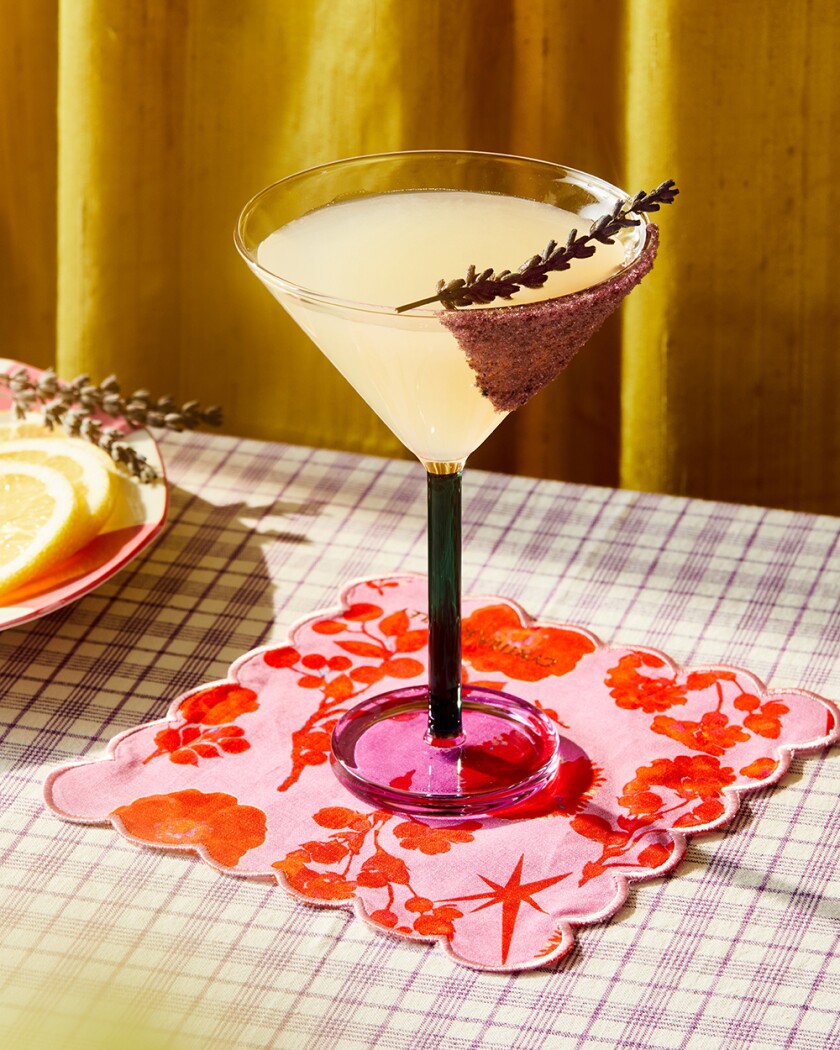 Martinis are elegant concoctions that deliver a powerful punch of flavor. The sweet and zesty lemon drop martini is a light addition to any garden party, but when it's infused with lavender, it tastes like a blue sky in the spring.

Makes 1 cocktail

2 oz. lemon vodka

0.25 oz. orange liqueur

1 oz. fresh lemon juice

1 oz. lavender syrup (or create your own with 1 tablespoon simple syrup and 1 teaspoon culinary lavender buds, muddled together in a cocktail shaker, then strained)

*Sugar to rim the glass

Rim glass with a lemon wedge, then dip the glass edge in a light sugar coating. Add liquor, juice and syrup in a cocktail shaker with several cubes of ice. Shake well and pour into a martini glass. *Optional: top with a sprig of lavender.

Orange Blossom Cocktail (or Mocktail)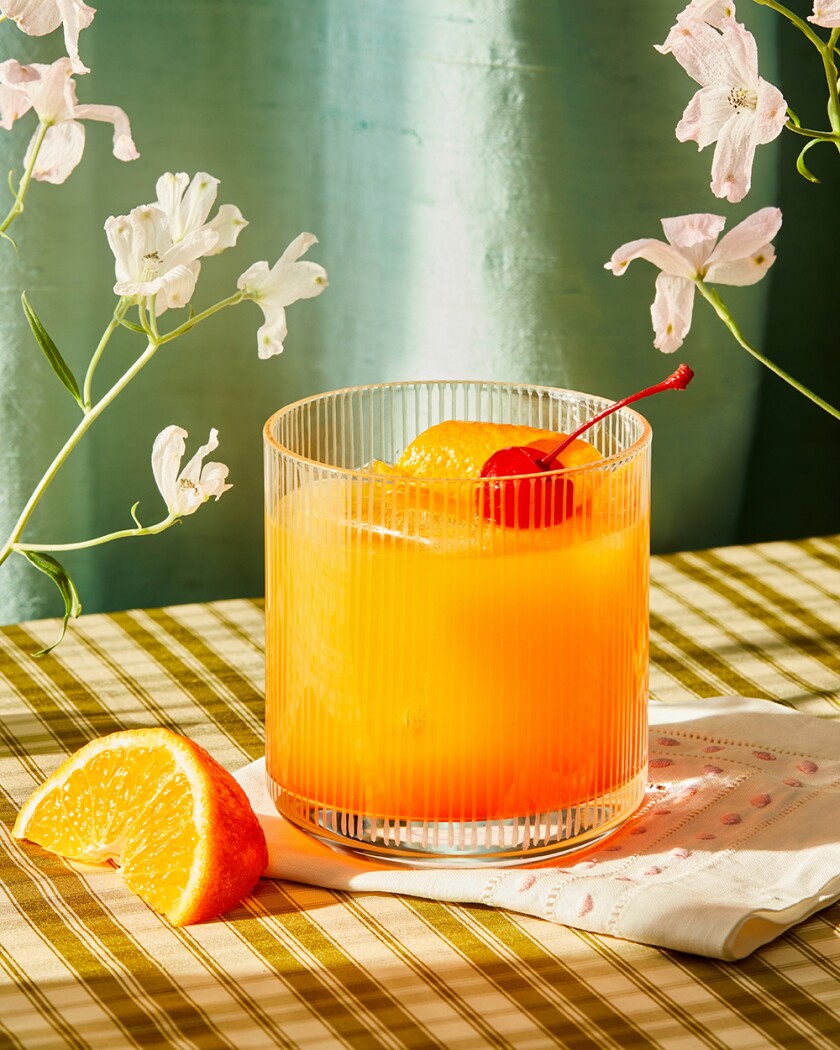 If you've ever smelled orange blossoms, then you know one sip of this drink will transport you to a fragrant orange grove where you can sink your teeth into some of the sweetest, juiciest fruit you've ever had. Several orange blossom recipes call for sweet vermouth, but I prefer the citrusy taste of an orange-flavored liquor. So cool down on a warm spring afternoon by adding this vitamin C-loaded beverage to your day.

Makes 1 cocktail or 2 mocktails

4 oz. orange juice

1 1/2 teaspoons lime juice dash of grenadine or maraschino cherry juice

Alcohol version:

Add 2 oz. gin and 1/2 oz. orange liqueur

Mocktail version:

Add 1/2 cup sparkling apple juice and 1/2 cup ginger ale

Pour all ingredients into an old-fashioned glass with ice. Stir lightly until blended, then garnish with an orange zest twist.

Strawberry Basil Mojito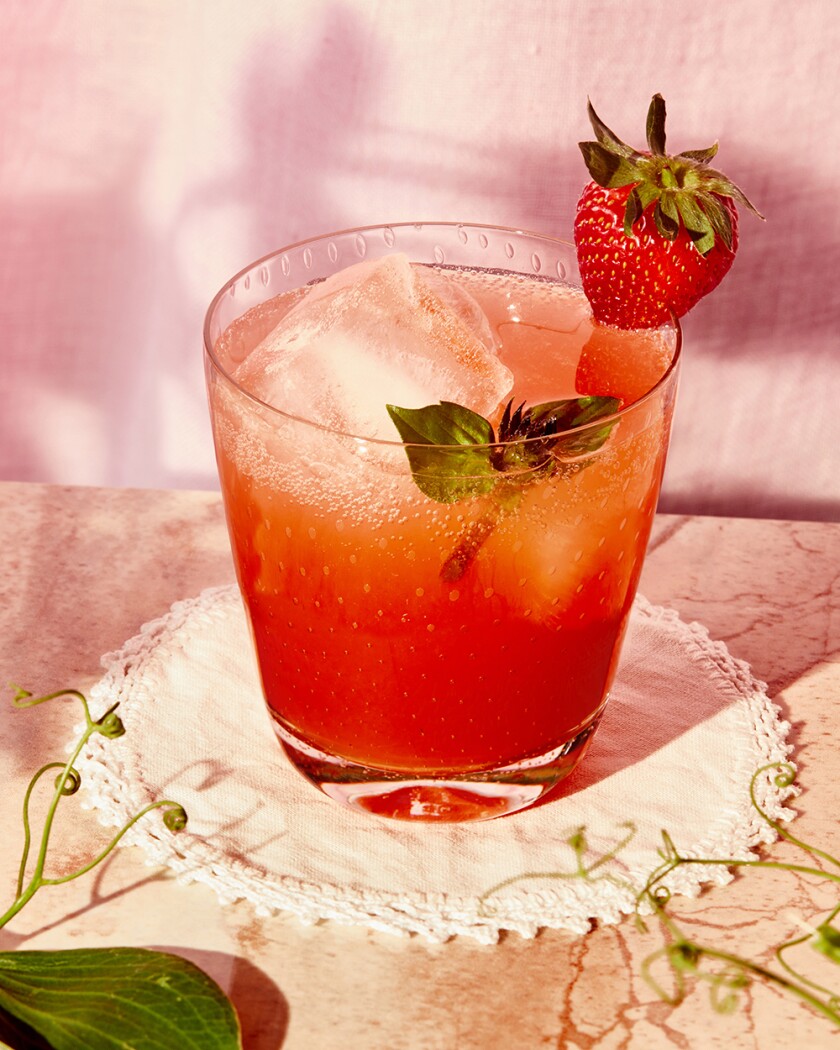 One of my favorite spring activities while growing up in Florida was visiting the "U-Pick-Em" farms, where we strolled down colorful rows of fruits and vegetables. I loved picking out the ripest strawberries for my bucket and eating half of them in the car before we got home. Nowadays, I enjoy adding strawberries to many of my cocktail recipes, especially when they call for a twist of flavor from herbs like fresh basil. This mojito is sure to quench your thirst after a long day of working in the garden.

Makes 1 cocktail

2 oz. white rum

3 large strawberries, washed and tops removed

1–2 fresh basil leaves

1 oz. simple syrup

1 oz. lime juice

splash of club soda

In a cocktail shaker, muddle together the strawberries and basil. Add rum, syrup, lime juice and a few ice cubes. Shake and strain into a lowball glass, then top with a splash of soda. Garnish with a slice of strawberry and a basil leaf.

To make a mocktail version, skip the rum and add extra soda.

Hibiscus and Ginger Margarita or Mocktail Hibiscus Ginger Mule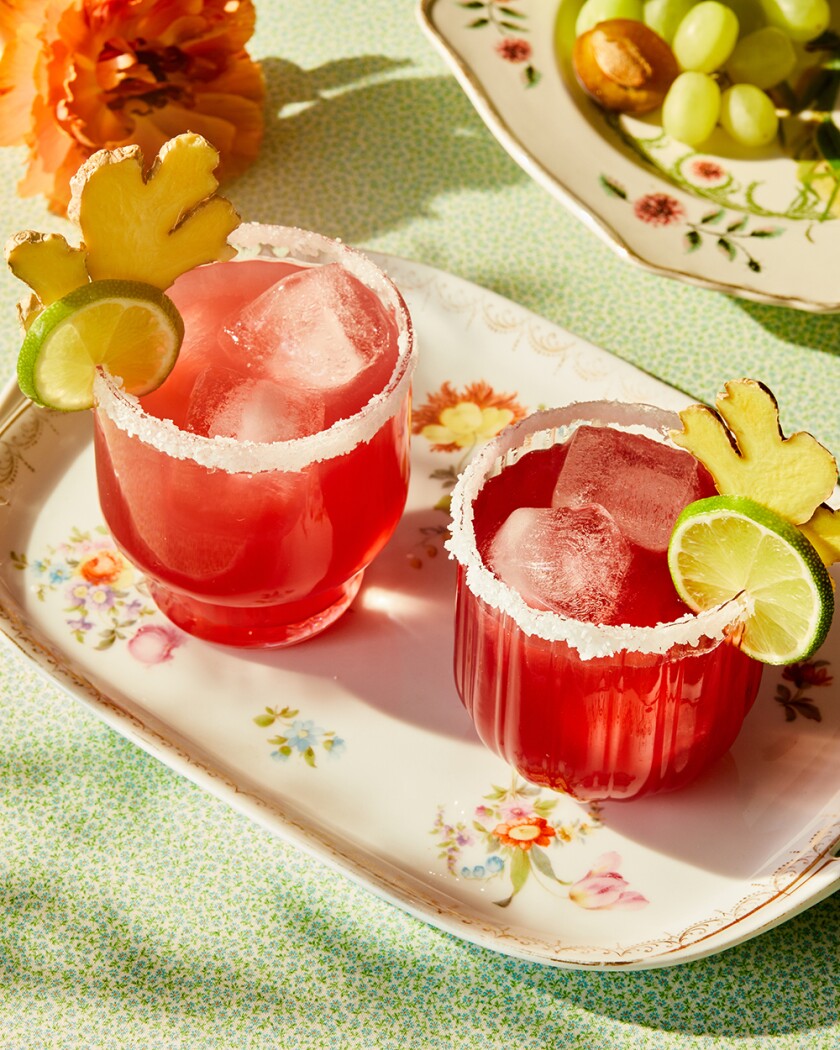 Who doesn't love a cold margarita on a warm day? Infusing the beverage with hibiscus ginger syrup makes the drink extra crisp and refreshing. Your taste buds will do a happy dance after a few sips of this tangy cocktail.

Makes 1 cocktail

2 oz. tequila

1/2 oz. triple sec

Juice of 1 lime

1 oz. hibiscus ginger syrup (see recipe below)

Coarse salt to rim the glass

Run a wedge of lime around the glass, then turn it upside down on a plate of coarse sugar. Fill with ice. Add all four ingredients to a cocktail shaker with more ice, shake until cold, and then pour into the glass. Garnish with a slice of lime.

For the hibiscus syrup: Boil 2 cups water, 1 cup granulated sugar, 3/4 cup dried hibiscus, and 3–4 thin slices of fresh ginger over medium heat. Once it boils, simmer on low for 15 minutes. Remove pan and cool for 1 hour. Strain liquid and store extra syrup in a tightly sealed jar in the fridge for up to 3 months.

For the mocktail mule version, use the same amount of lime juice and hibiscus syrup but use 6 oz. ginger beer instead of the alcohol. Do not put this in a cocktail shaker; mix it in the glass instead with ice.

Bunny Punch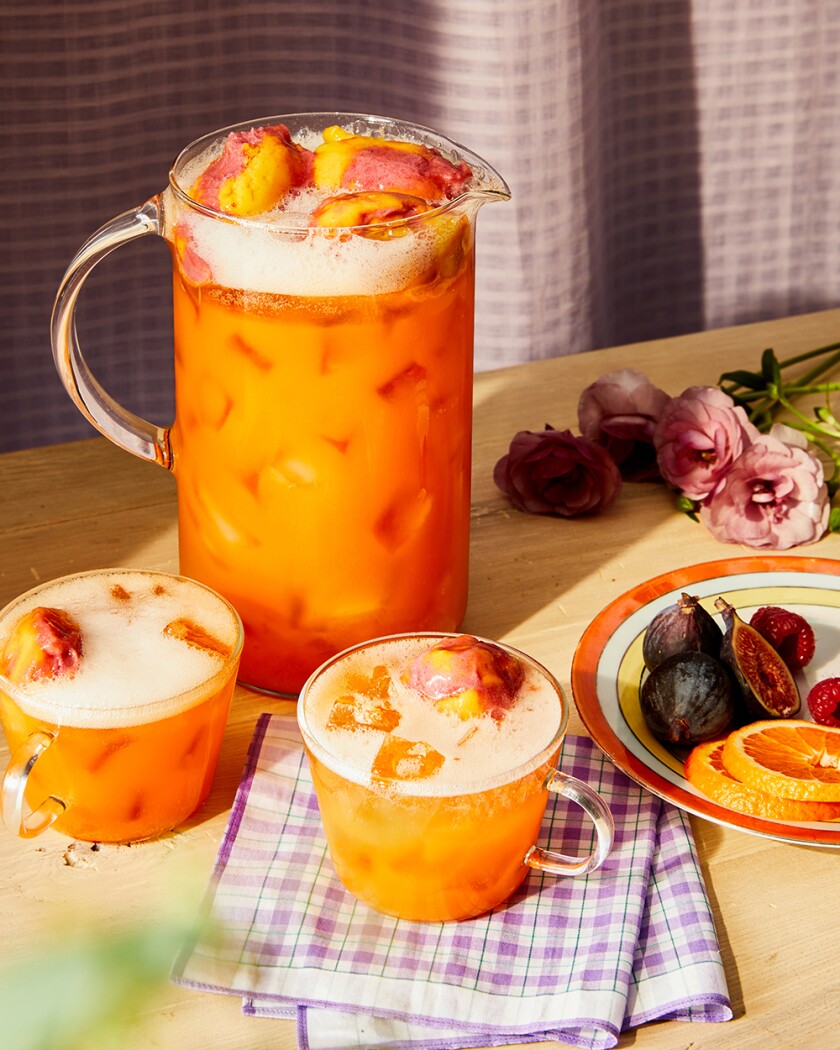 Hosting a bridal shower or a much-needed luncheon with your besties? Your guests will flip for this easy, pastel-colored punch that is perfect for an outdoor gathering in a garden bursting with spring flowers.

Makes 12–13 cups

1 liter 7 Up or Sprite

1 1/2 cups carrot juice

1 cup orange juice

2 cups pineapple juice

Juice of 1 lemon

6 oz. white rum

6 oz. citrus vodka

1 (750 ml) bottle champagne

1 container sherbet (orange, raspberry or rainbow)

Orange and lemon slices for decoration

Mix the first 7 ingredients together in a punch bowl and let stand for 2 hours for flavors to blend. Add plenty of ice, then top with champagne. Scoop desired amount of sherbet and add to the bowl by the spoonful for pastel coloring. Top with fruit slices and serve in glass punch cups.

What's your go-to drink in warmer weather? Let us know in the comments below.