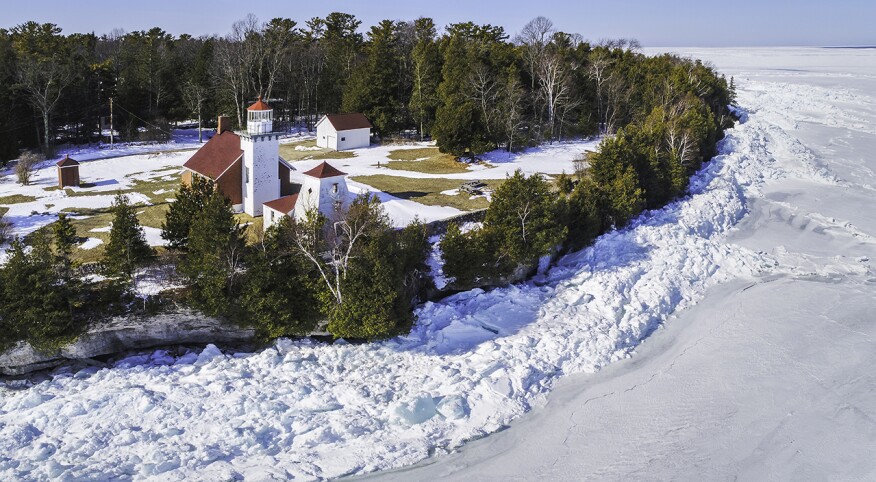 Door County, Wisconsin, is the quintessential summer and winter playground. In warm seasons, the boats are moored in sparkling lake Michigan and the town is filled with swimmers, kayakers and diners enjoying waterfront restaurants. In winter, the waters turn into a glisteny wonderland.

Door County is considered the Cape Cod of the Midwest, and the area has it all: gorgeous scenery, outdoor play and many places for cozy indoor dining. This oasis in Wisconsin, a four-hour drive from Chicago, sits on mammoth Lake Michigan, which covers Wisconsin, Michigan, Indiana and Illinois.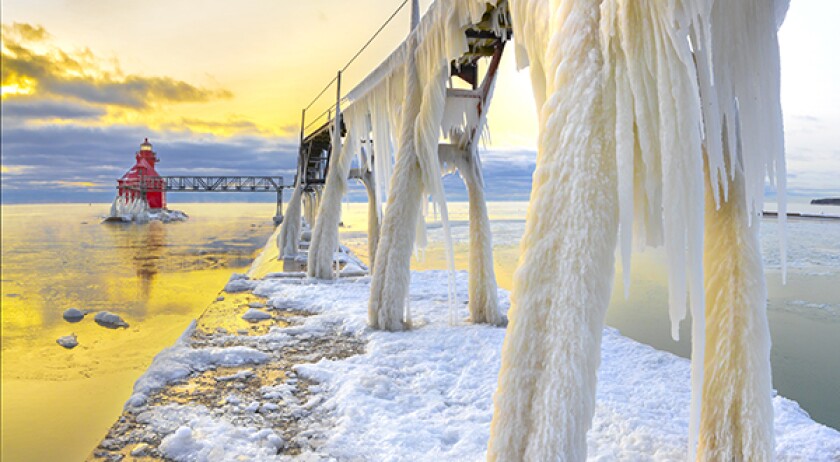 Indeed, here in one of the coldest winter destinations, you'll find plenty of opportunities for winter sports. There's ice fishing, snowshoeing, cross-country skiing and even fat-tire biking.

You don't have to be an avid sportswoman to enjoy Door Country. You may just want to come for its beauty and to be part of a close-knit community, with a large senior population that fled the city to retire or purchase second homes.

Novice fisherwomen like me are grateful for the guides that help get your ice huts ready to cast your rods. They bait your poles, and on a good day you can reel in walleye, Northern pike, perch or brown trout. The area is also becoming known for getting prime whitefish.

I'm familiar with fishing as a relaxing hobby as my dad often took our family out on Lake Michigan in the summers. We would watch as he sculpted our catch into fillets, and then our mom cooked the fish to a golden brown.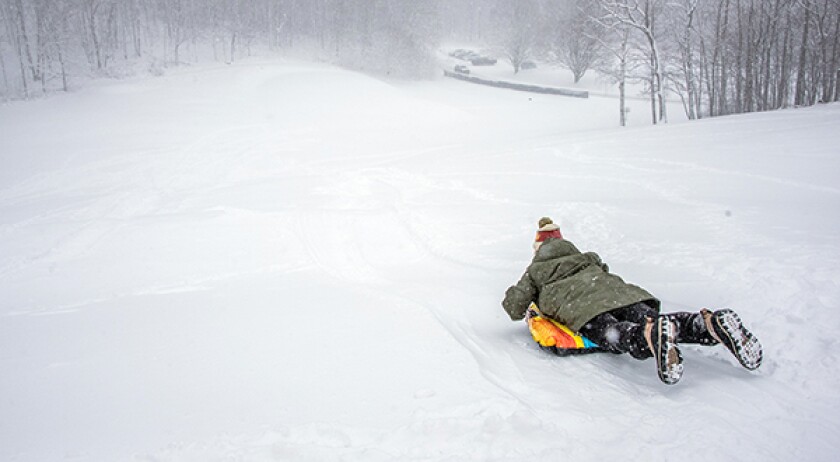 There are 250 miles of snowmobile trails; candlelight skiing in January and February; sleds and tubing at Peninsula State Park; romantic sleigh rides with Mayberry's Carriages; classes such as weaving and philosophy at The Clearing Folk School; and even a fish-fry/boil every Friday night at the nearby White Gull Inn.

I've done my share of snowshoeing and cross-country skiing, and found that at the age of 64, I can handle hiking the Wisconsin hills only with some deep breathing – and silent praying.

After an exhausting and invigorating time spent outdoors, I seek out soothing restoration at a spa. I choose The Spa at Sacred Grounds, a day spa, though there are many places in Door County to spend the night, from intimate inns to larger hotels.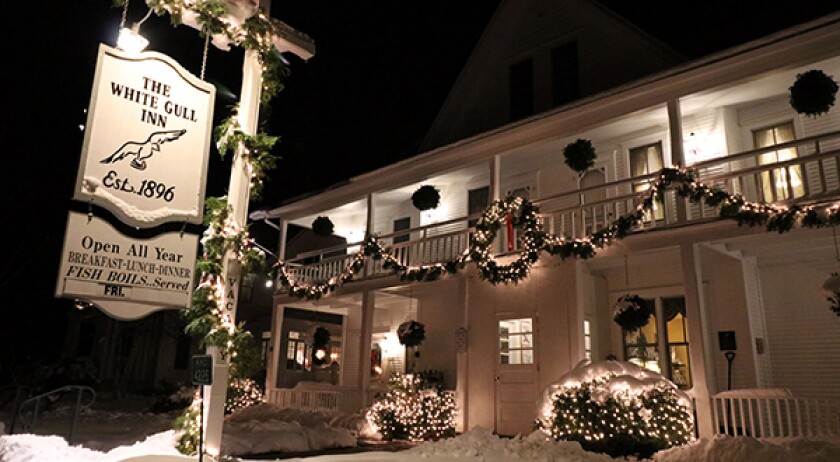 The Spa at Sacred Grounds, located in the wooded town of Ephraim, is open all year for body work, massages, facials and other wellness offerings. The forest and the serene setting are an oasis of therapeutic relaxation and peace. Stress melts away as you indulge in pampering services, including hydrating body treatments, deep-tissue and herbal massages (some performed in a log cabin), a variety of facials and yoga. Kim Maedke-Shumway, a Door County native, was a customer at the spa for 18 years before she became owner. Helping others gave the slender, dark-haired woman a new sense of confidence. And, from being a spa regular herself, she already knew what made people happy when choosing services to feature. "I thought if I can do for one person what this spa has done for me, I'd be doing well," she says with tears in her eyes.

Although Wisconsin often primarily evokes images of dairy farms and the Green Bay Packers, this pocket of the state is also home to art galleries, wineries and an assortment of shops, offering everything from pricey glamour items at the Bliss Co-Op to rustic log furniture.

One alluring stop is for homemade cherry wine from Lautenbach's Orchard Country Winery, which is open year-round. I love tangy cherries and have tried their wine flights, which are delicious. The winery is located on a sprawling orchard and also serves up delicious cherry pancakes and strudel.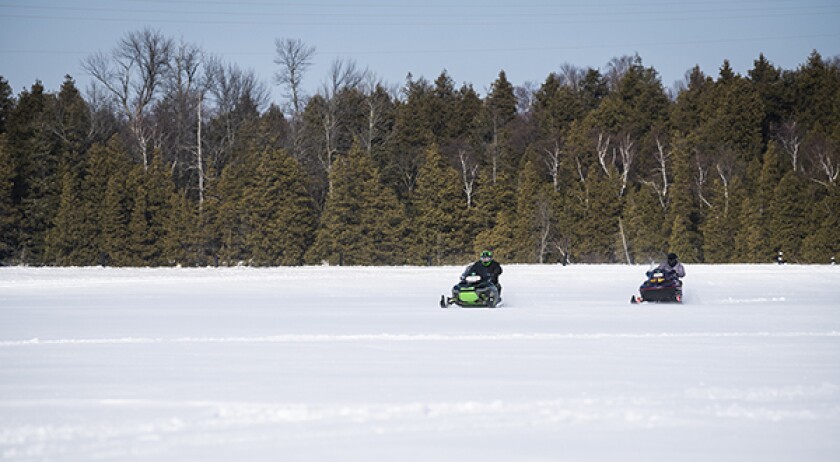 For those who want to visit this little-known Wisconsin jewel this winter, it's easy to get to and from airports in Chicago, Milwaukee and Green Bay, with readily accessible rental cars.

Before my snowy excursions here, I always thought I was a summer girl. But Door County has made me an all-weather girl. You might run into me this February sipping cherry wine after a vigorous hike on a snow-packed hill. And you may see me in mid-July too, when this winter wonderland is truly full of wonder, with swimming and waterskiing on pristine lakes flanked by towering pines. More tourist information on Door County can be found here: https://www.doorcounty.com/

Have you ever been to Wisconsin? Let us know in the comments below.