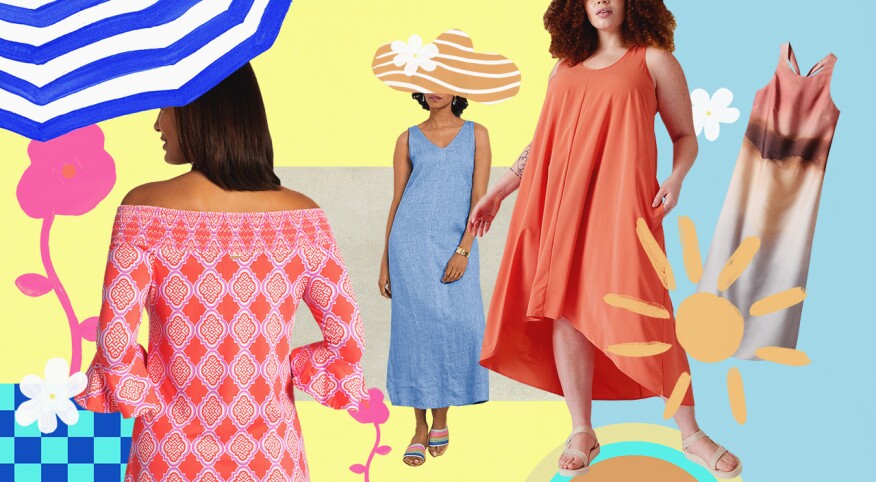 As summer's heat drags on, it would be easy to throw in the (very sweaty) towel and simply wilt.

Instead, slip into something that will cool you down and perk you up — a refreshing dress. Selecting optimal styles and fabrics from these five suggestions can bring immediate relief.

If you already have your eye on the calendar and the eventual return of cooler temperatures, don't fret. Many of these dresses can easily glide into fall to maximize your wardrobe and your budget. Add T-shirts with short or long sleeves under summer's barest designs. Layer on chunky-knit cardigans, denim jackets, moto jackets or classic trench coats as the thermometer starts to dip. And pull on low boots, Chelsea boots, knee-high boots, even rain boots as you stride confidently into the next season.

Linen's superpowers

Cotton may be the fabric of our lives, as the advertising slogan goes, but linen is definitely the fabric of our summers. Made from flax, linen has undergone an image makeover in the post-pandemic era. When a 2017 Vogue headline asked, "Science Says Linen Is the Coolest Summer Fabric — But Can It Look Cool?" the very premise called into question linen's fashion credentials. Fast-forward a handful of years and, with the post-pandemic emphasis on comfort, the script has flipped. Linen is now celebrated as summer's saving grace across a spectrum of stores and price points. Core capabilities like moisture wicking and ventilation make linen one of the cool kids now.

Designer Eileen Fisher is a longtime linen fan, using it in her warm-weather collections since 1984. "I like the heat, but I like to be cool in the heat and don't like anything that sticks to me," she told Vogue back in 2017. "I like the easy styles and that sort of billowy quality that [linen] has." She continues her devotion with more than 30 linen dress options for summer 2023. They include the Crinkled Organic Linen Stripe Shirtdress, which cleverly camouflages wrinkles with subtle striping, and the streamlined maxi shape of the Washed Organic Linen Delave Square Neck Dress ($178-$248).

What could make linen any cooler? Just add watery blues and nautical stripes. Talbots takes that tack for its Linen Maxi Dress in Newport Stripe or whitecap-flecked blue cross dye ($120-$130). For a knee-baring look, stripes encircle the hem of the Pintuck Linen Popover Dress in Fresh Water Poolside Blue ($105).

More budget-minded offerings can be found at Grae Cove, a direct-to-consumer brand focused on 100 percent linen fabrications. The Dahlia Pleated Back Scoop Neck Shift Dress (in trendy pink), Ainsley V-Neck Swing Dress (with pockets) and Luna V-Neck Summer Swing Dress (with inset waist detail) all capture the breezy, effortless styling that can make hot weather bearable ($60-$65).

Trapeze act

With its gently flared hemline, the high-flying trapeze shape offers a cool, unencumbered take for summer days. There are no belts, buttons or waistlines to constrict or restrict airflow, just a floaty drape that starts at the top and spreads downward like a refreshing drink on a scorching day.

Capture this vibe with sleeveless styles like Athleta's racer-backed Presidio Dress ($70) or Grae Cove's Meghan Linen Trapeze ($60), which both feature sloping high-low hemlines. For more arm coverage, Talbots delivers a wispy Organic Cotton Gauze Dress from its Haven Well Within collection ($70). Pair with sandals or slides to keep the cool flowing all the way to your toes.

Straight shooters

Long, uncomplicated styles make reliable sundress staples too. Lean in to the look with Caslon's flowing Sleeveless Tie Back Cotton Maxi or, for a more-defined silhouette, slip on the Sleeveless Cotton Blend maxi from Nordstrom's private label ($70-$80). For visual appeal on long, lean columns, Mango adds ombre coloring to its Satin Cross-Back Dress and tiny plisse folds on the Pleated Long Dress. Both look decidedly more elevated and expensive than their price tags ($40-$50).

A throwback to the '90s, the slip dress capitalizes on its retro charms with around-the-clock cool. By day, Loveappella serves up an easygoing Maxi Slipdress with lively dots sprinkled across a navy background ($80, nordstrom.com). Once the sun sets, satiny styles are ready to take a stroll. Zara provides a range of colors, coverage and fabrics to choose from in its extensive slip dress collection ($200-$230). Old Navy has a nice Waist-Defined Smocked Tiered Midi Cami Dress for just $24.97.

In addition, Marshalls offers some cute summery dresses for as low as $17.00.

Shoulder smolder

Shoulders are a mature woman's best friend, and this season provides ample opportunities to flaunt them. Off-the-shoulder designs range from nautical stripes that lend a French accent to the Bardot Jersey Midi Dress ($98, bodenusa.com) all the way to Cabana Life's splashy prints in Caribbean colors ($79-$132).

For darker shades that will transition into fall, consider the flirty, knee-grazing styling of Loft's Ruffle Off the Shoulder Dress in black ($40). T Tahari's Eyelet Off-the-Shoulder Midi Dress in navy dips to mid-calf and earns bonus points for its hole-punched fabric ($198, bloomingdales.com).

Well-ventilated

When it comes to easy breezy, some fabrics have a head start — especially the ones with holes in them. Lace, eyelet and crochet all have that extra dimension of ventilation that makes them so popular.

Karen Kane delivers the Mixed Lace Dress and the Short Sleeve Embroidered Dress ($148, both at bloomingdales.com) in off-white lace that skims the knee. Banana Republic Factory goes for a long, lean look in its white Lace Maxi Dress ($132), while its parent brand opts for a black version with the Auriene Lace Maxi Dress ($180).

If you're looking toward fall, you can find airy eyelet options in deeper tones. Loft's Striped Perfect Tank Midi Dress comes in a light blue for $29.99, while Treasure & Bond's Eyelet Hem Cotton Sundress ($90, nordstrom.com) is a rich rust.

As summer grinds on, many retailers are selling out of anything crocheted. Those styles have become popular for transitioning from the beach to the boardwalk and the pool to the patio bar. You can still find crocheted maxis to minis on etsy.com. Five-star shops like CrochetNurs, YouOnlyLiveOnes, Chandaka and GurenkovaKnitwear (from Ukraine) offer a range of cotton styles ($75-$135) that can be customized by color, length and measurements.

Now, you're ready to cool off in style — and when nights get chilly, layer up with a cool-looking cotton sweater or shawl.

Do you love to wear dresses in the summer? Why or why not? Let us know in the comments below.