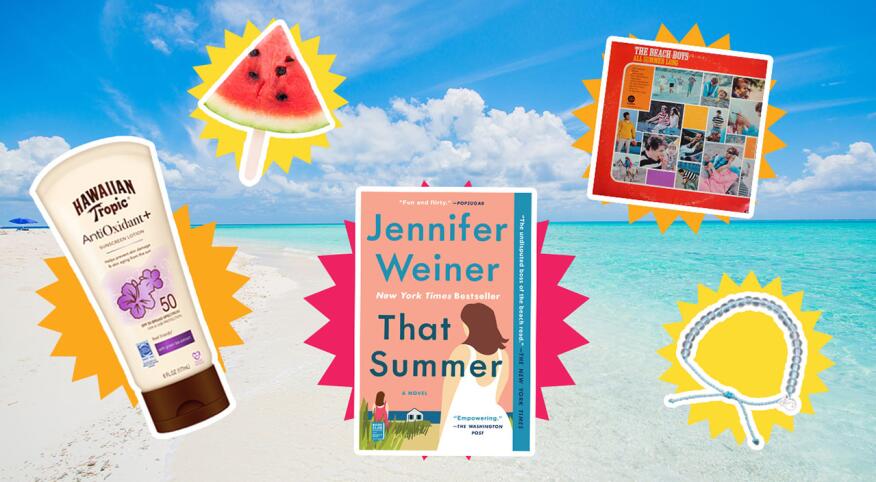 As the laid-back days of summer stretch ahead, you may be dreaming of a vacation to a tropical destination. But while many people are dipping their toes back into travel this season, you may not yet be ready (or available or able to afford) to hop on a plane to unwind at a seaside Shangri-La. Even so, you can still evoke that toes-in-the-sand feeling right where you are, whether you live in an apartment with a tiny balcony or a home with a big backyard. After all, summer is a state of mind, not a place. Summer stirs up a spirit of slow living, joy, playfulness and connection. Ready to bring that beach vibe to you? Savor August with these dreamy, come-hither ideas.

Set the stage

Make this a truly sensory experience. Slather on some fragrant sunscreen for that you're-at-the-beach scent to put you in the right frame of mind. Sit outside — on a deck, in a lounge chair or by a swimming pool — to soak up some sun, feeling the warmth of the rays kiss your skin. Blow up a colorful beach ball for a get-you-in-the-mood visual. Fill your ears with crashing waves by listening to nature sounds on apps like Calm, Insight Timer and Aura. Slice some watermelon for a thirst-quenching snack. Then pour yourself an ice-cold beer or tropical drink, sit back, and sink into the moment.

Add beach decor to your home

Remember those awesome beach-vacation pictures you posted on Facebook a few years ago? Instead of letting them gather digital dust on your social media timeline, print them out, frame them, and hang them around your home. Or consider purchasing Ocean Sand Art ($60–$110; available from Uncommon Goods) for a mesmerizing beach escape every time you rotate the frame. Handmade in Austria by artist Klaus Bosch, this piece captivates you as the blue and white sand cascades into ever-changing beach scenes, evoking that surfside feeling. Outside, plant a beach umbrella in your backyard for a shady respite from the summer sun. Hang a marine-themed throw over your deck chair for a splash of ocean comfort. Light tiki torches on your patio on a sultry evening.

Get lost in a great beach read

Throw a beach towel over your deck chair and snuggle up with one of these highly acclaimed books that are perfect for summer reading. Pick up Seven Days in June ($17), by Tia Williams, who weaves a steamy tale of love found, lost and found again. Or grab a copy of That Summer ($15), and go on a journey with author Jennifer Weiner as she charms you with, as the book description promises, a "deliciously twisty novel of intrigue, secrets and the transformative power of female friendship." Love family-focused stories? Dive into Black Cake ($18), an engrossing intergenerational family saga by Charmaine Wilkerson in which two estranged siblings may finally be reunited after their mother's death.

Get your beach groove on!

Even if you still have the original album of your favorite Beach Boys hits, you may want to get The Very Best of The Beach Boys ($12), the digitally remastered 30-track collection from the quintessential California pop band. This best-of CD features your favorite sing-alongs, including "Wouldn't It Be Nice," "Help Me Rhonda," "Good Vibrations," "California Girls," "I Get Around" and "Rock & Roll Music." Or create your own beach-themed playlist on your favorite streaming music service, such as Spotify, Apple Music or YouTubeMusic. Need a few song titles to get started? Kick off your playlist with these summery, feel-good tunes.


"Margaritaville" (Jimmy Buffett)

"Under the Boardwalk" (The Drifters)

"Cake by the Ocean" (DNCE)

"Beachin' " (Jake Owen)

"California Gurls" (Katy Perry)

"Summer Nights" (from Grease)

"The Boys of Summer" (Don Henley)

"Walking on Sunshine" (Katrina and the Waves)

"Island in the Sun" (Weezer)

"Soak Up the Sun" (Sheryl Crow)

"Sittin' on the Dock of the Bay" (Otis Redding)

"All Summer Long" (Kid Rock)
Beach-ify your wardrobe

Who says a sarong should be worn only on vacation? Don your tankini and wrap yourself in a sarong crafted with featherweight fabric and neon colors. Break out those funky sunglasses, even if you're going grocery shopping. Wear flip-flops to showcase your pedicure, toenails awash with sunset rose or seafoam green. Do your hair in a ponytail like you did when you were 10 at summer camp. For another campy summer touch, splurge on a Dolphin Beaded Bracelet ($20; available from 4ocean), handcrafted by a Bali-based artisan who assembles the beads, cords and charms. The 4ocean company is dedicated to cleaning up our oceans, so your bling-buying goes to a good cause. For every bracelet purchased, 4ocean removes one pound of trash; plus, the company creates sustainable, living-wage jobs. You might also check out bracelets from Yitian and from Lifetime Jewelry.

Plan a picnic

Scorching temperatures call for no-cook meals. Invite a few friends for a beach-themed feast. Make a tropical punch and other cool-down snacks, such as cherry tomatoes with fresh mozzarella pearls and folded basil leaves, on bamboo skewers. Whip up watermelon gazpacho. Set up a build-your-own-sandwich bar, with croissants, meats, cheeses and gourmet spreads like chutney, flavored hummus and pesto. For dessert, make a chillin' ice cream cake, coconut cream pie or boozy popsicles. Don't forget to bust out your beach decor, don a sarong and flip-flops, and queue up your beachy playlist!