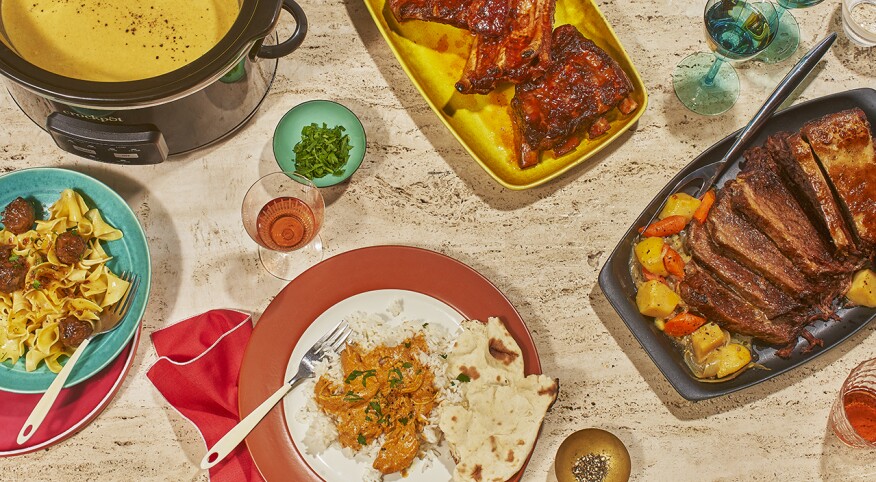 I received my first slow cooker as a wedding gift in the mid-1980s and had no clue what to do with it. I didn't know anybody who used a slow cooker — everyone was into cooking stir-fry with woks. So, I packed away my orange-striped slow cooker, where it collected dust for 15 years.

Four kids and two part-time jobs later, I had zero time to cook, but slow cookers were making a resurgence — and I quickly discovered why. There was nothing easier than tossing a few ingredients into a pot, hitting the "on" switch and letting it do its own thing for six to eight hours. There's something special about walking through the door and being greeted by the comforting smell of fresh herbs and sauces that have been simmering all day.

Fortunately, the recipes have come a long way since the 1970s version of slow cooker dinners made with chicken, mushroom soup and rice. Today's effortless meals are designed to please even the pickiest palate in a fraction of the time it takes to cook a gourmet dinner. And —surprise — not all of them require a can of soup!

Here are six dishes to make in a slow cooker that will offer a heartwarming welcome on a cold winter night.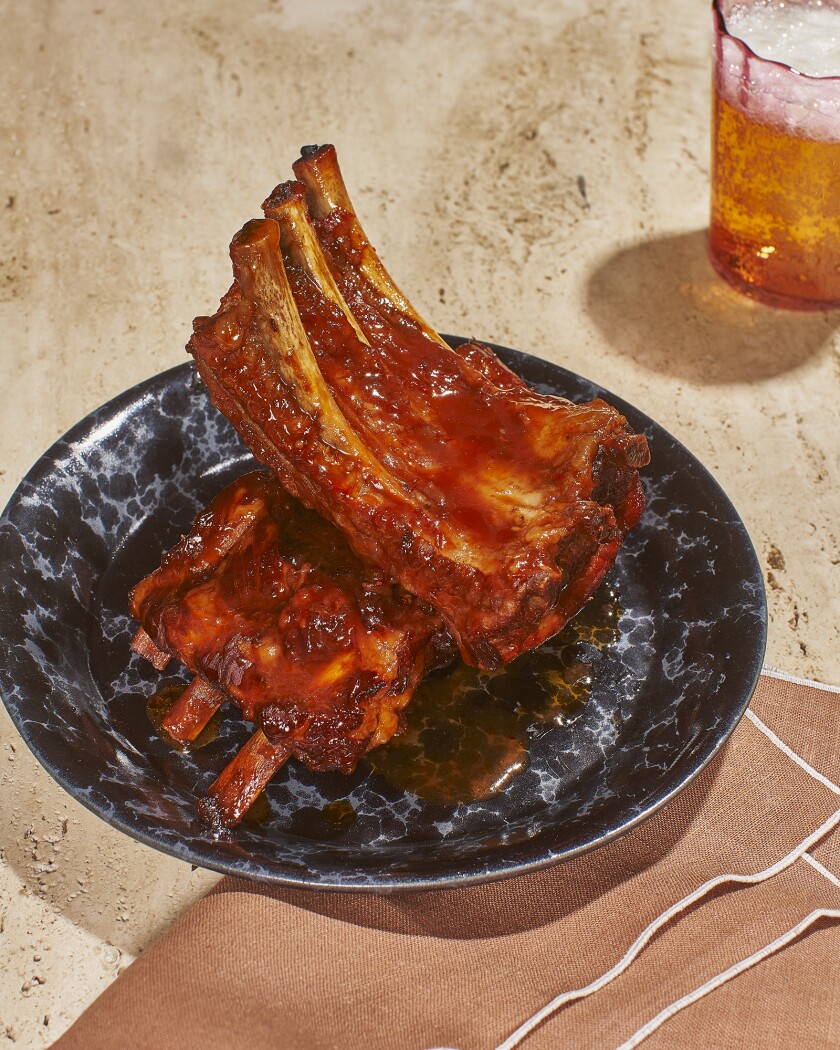 Sticky Baby Back Ribs

This recipe is so tasty and simple to make. I like to serve it with a loaded baked potato and side salad.

Serves 4–6

3–4 pounds pork baby back ribs
1½ cups cherry preserves (or any jams such as apricot or grape)
1 (12 ounce) jar chili sauce
1 clove garlic, minced
1 tablespoon Dijon mustard
Salt and pepper to taste

Cut ribs into serving-size pieces and place in a 5- to 6-quart slow cooker. Combine remaining 4 ingredients (plus salt and pepper) and pour over ribs. Cook LOW for 6–8 hours or until meat is tender.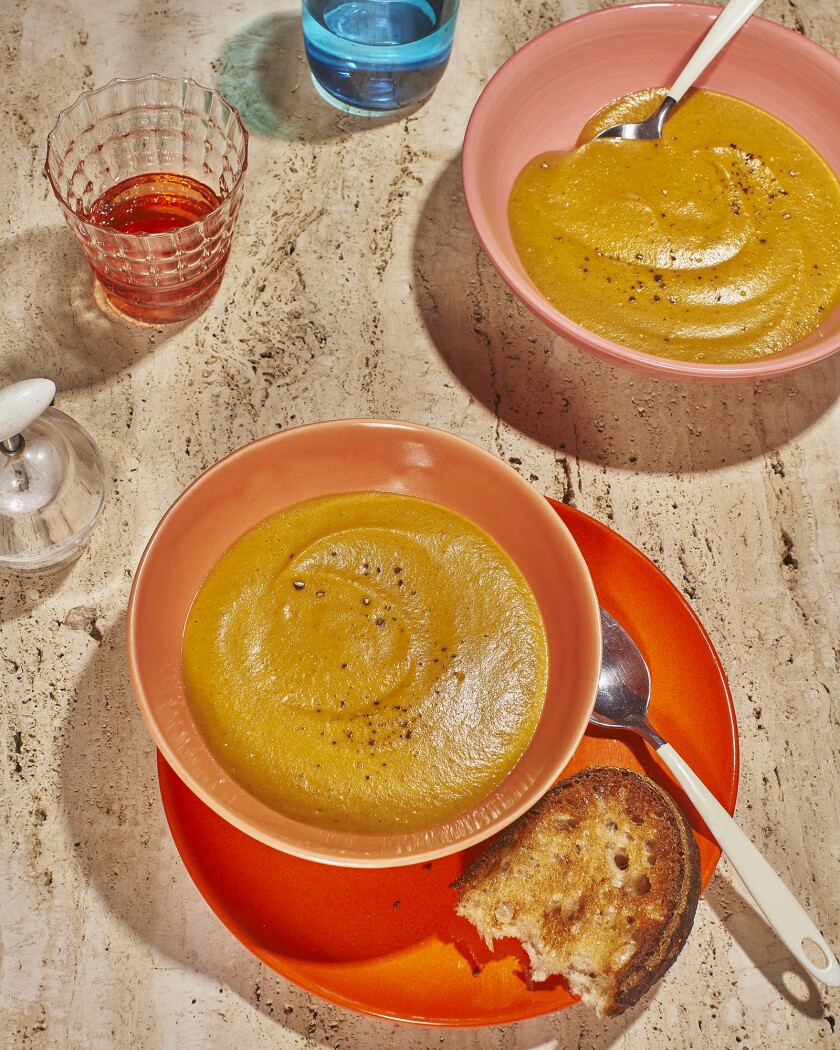 Creamy Dreamy Vegetarian Bisque

Make this savory soup* to warm up your family on a winter day!

Serves 6–8

2 medium-size sweet onions, chopped
2 tablespoons butter
1 tablespoon minced garlic
1 pound carrots, diced
2 medium-size Yukon Gold potatoes, peeled and diced
1 head broccoli, chopped and stems removed
1 teaspoon sage
1 teaspoon rosemary
½ teaspoon red pepper flakes
32 ounces vegetable broth
1 cup cream
Salt and pepper to taste

Sauté onions in butter and garlic until tender. Set aside. Add carrots, potatoes, broccoli, seasonings and onions (plus pan drippings) to a slow cooker. Pour broth over it all. Cook on LOW 6–8 hours or HIGH on 3–5 hours, or until veggies are soft. Add cream 30 minutes before serving, then use an immersion blender to mix bisque until it's creamy thick.

*To make the vegan version, substitute olive oil for the butter and soy milk with an extra 1–2 tablespoons of olive oil for the cream.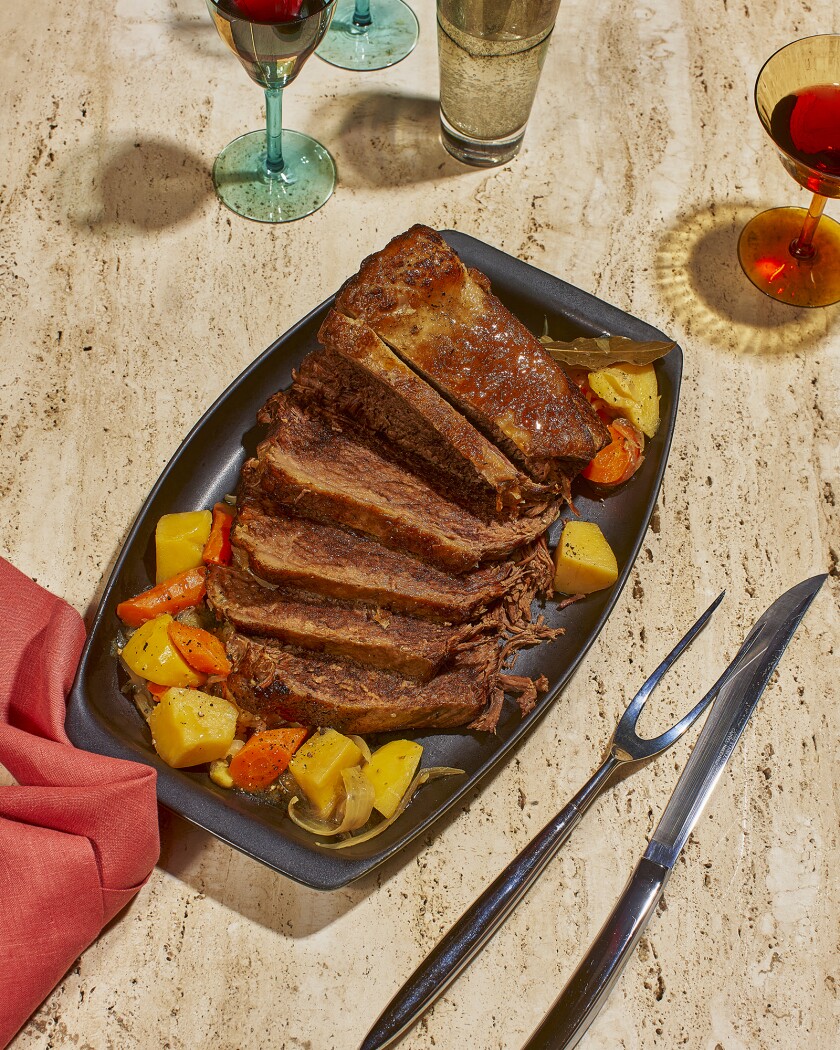 Mom's Sunday Pot Roast

Pot roasts are easy because you can't go wrong with them; add whatever seasonings and veggies you want to the meat. They always turn out perfect — especially in a slow cooker, which makes the meat extra tender.

Serves 6–8

4–5 pounds beef bottom round roast
1 teaspoon dried thyme
1 teaspoon black pepper
2 cloves garlic, minced
2 tablespoons canola or olive oil
1 pound carrots, peeled and sliced into chunks
2 pounds Yukon Gold potatoes, peeled and cut into chunks
1 large onion, thinly sliced
4 bay leaves
2 cups beef broth
1 can condensed cream of mushroom soup
2 tablespoons cornstarch
2 tablespoons water

Rub roast with thyme, pepper and garlic. Heat pan with oil on medium-high and brown each side for 4–5 minutes. Place carrots, potatoes and onion in a 5-quart slow cooker. Transfer roast on top of veggies and cover with bay leaves. In a separate bowl, mix broth and canned soup. Pour over roast. Cook on LOW for 8–10 hours or HIGH for 5–6 hours. During the last hour, whisk cornstarch and water together and add them to the slow cooker to thicken the juice. Slice and serve when meat is thoroughly cooked and vegetables are tender.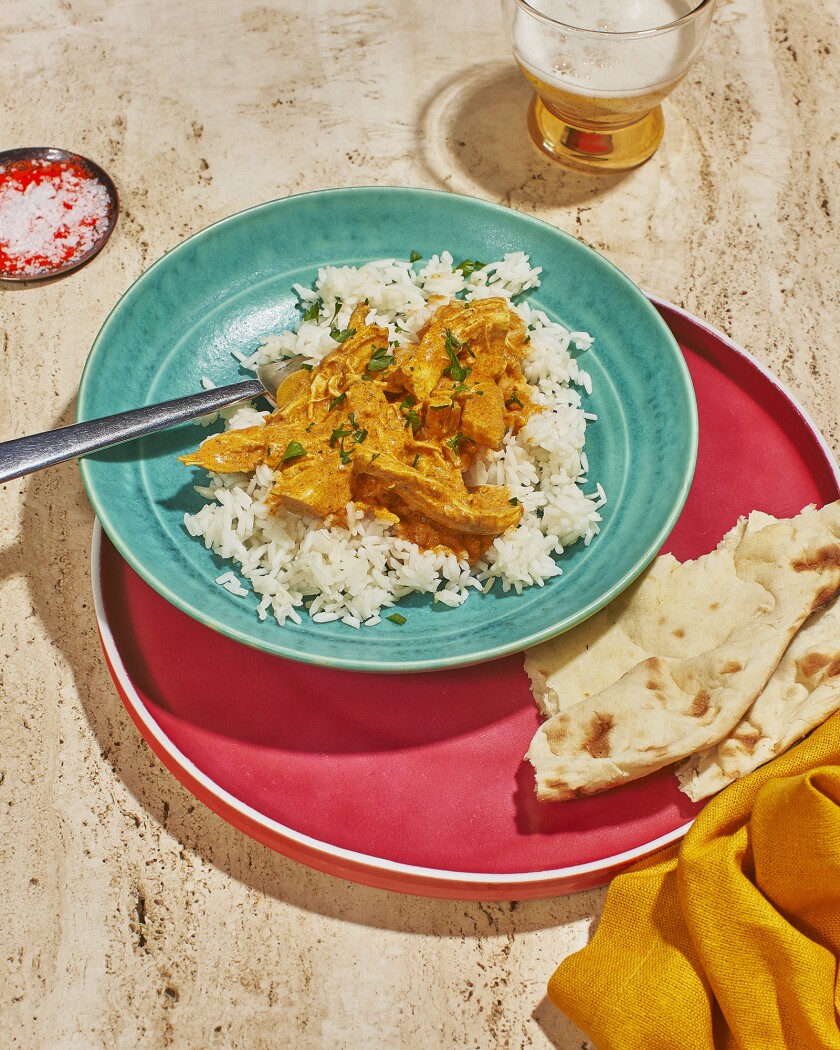 Indian Butter Chicken

I love to serve this buttery, soft chicken over rice with warm naan bread on the side. Delicious!

Serves 6

2 pounds boneless chicken breasts
1 onion, chopped
3 cloves garlic, minced
2 teaspoons curry
½ teaspoon cayenne pepper
2 teaspoons Garam Masala*
1 tablespoon freshly grated ginger
1 teaspoon turmeric
½ teaspoon kosher salt
4 tablespoons butter, melted
1 tablespoon lemon juice
1 (14 ounce) can coconut milk
1 cup plain Greek yogurt
1 (6 ounce) can tomato paste

Mix chicken and onions with the 7 spices in a bowl until well-coated. Place in a greased slow cooker. Whisk melted butter, tomato paste, lemon and coconut milk in a separate bowl. Pour over the chicken. Cook on LOW for 6–8 hours or HIGH for 3–4 hours. Remove chicken, shred with a fork, then return it to the pot. Stir in yogurt and cook for another 15 minutes.

*If Garam Masala is not available, substitute spice with 1teaspoon cumin, ¼ teaspoon allspice and a dash of black pepper.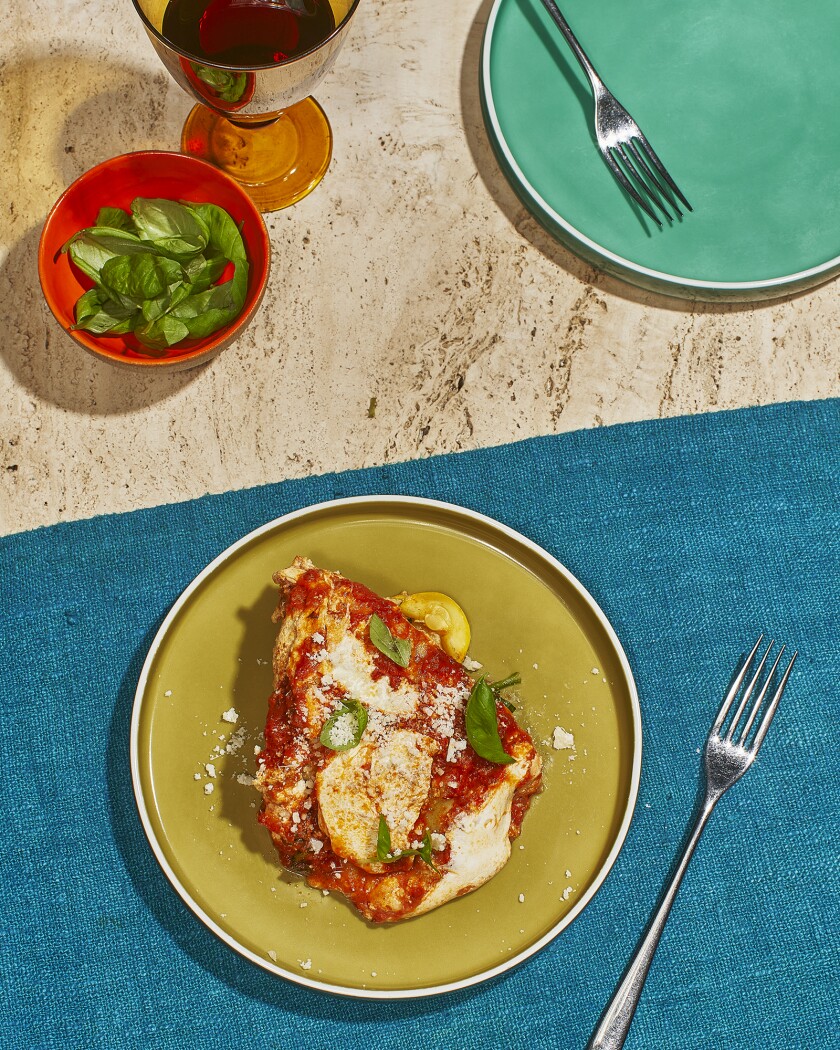 Gooey Three-Cheese Veggie Lasagna

Every bite of this cheesy goodness tastes like a warm hug.

Serves 6

15 ounces ricotta cheese
½ cup grated parmesan cheese
2 eggs
1 teaspoon salt
1 teaspoon black pepper
1 tablespoon fresh parsley, chopped
25 ounces spaghetti sauce
⅓ cup fresh basil, chopped
1 teaspoon dried oregano
3 cloves garlic minced
Pinch of red pepper flakes (optional)
Pinch of sugar (optional for cutting down tomato acidity)
1 pound box no-boil lasagna noodles
8 ounces baby bella mushrooms, sliced
2 small zucchinis, sliced
2 small yellow squash, sliced
1 (5 ounce) bag baby spinach, chopped
16 ounces grated mozzarella
8 ounces thinly sliced fresh mozzarella

Mix ricotta, parmesan, eggs, salt, pepper and parsley together. Set aside. In a separate bowl, mix spaghetti sauce, basil, oregano, garlic, red pepper flakes and sugar. Spread a quarter of the sauce on the bottom of a greased, 5-quart slow cooker. Place 1 layer of noodles over this, then a third of the ricotta mixture. Next, add 1 layer of mushrooms, zucchini and squash, then top with a third of the spinach and a third of the grated mozzarella. Repeat layers two more times, finishing off with 1 layer of noodles, then the remaining quarter of the sauce, and top off with the sliced mozzarella. Cook on HIGH for 3 hours or until noodles are tender.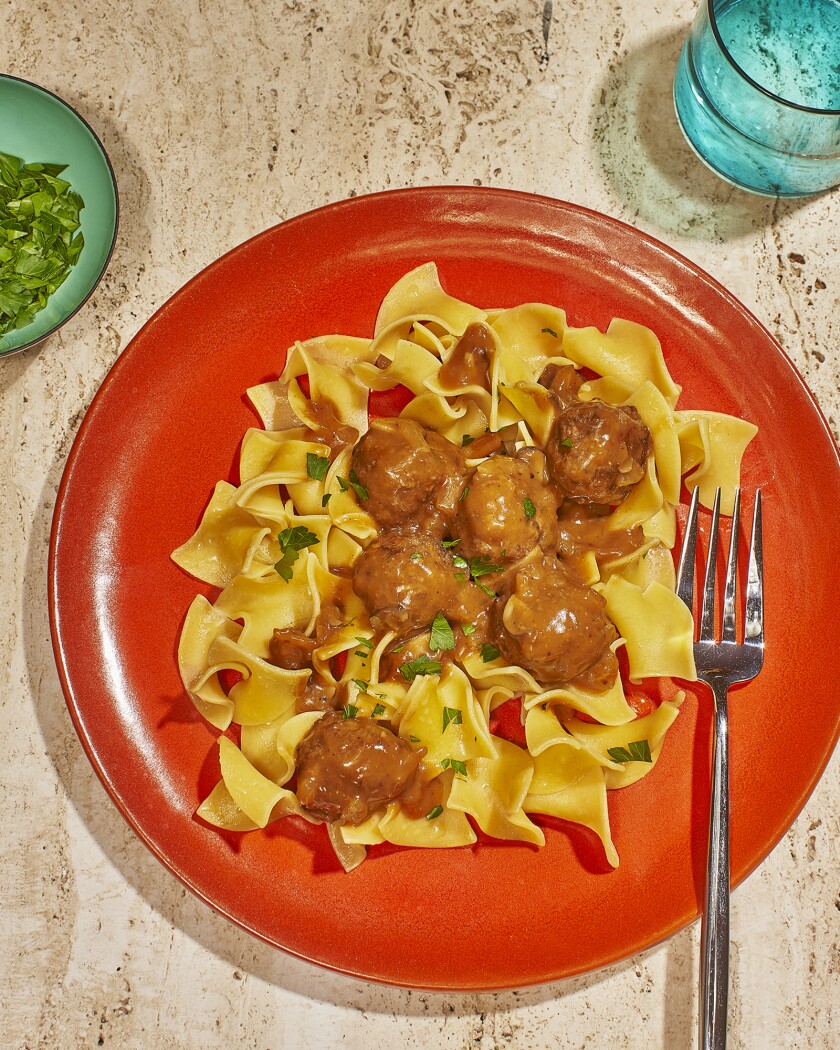 Superb Swedish Meatballs

This dish is the epitome of comfort food. If you have the time to elevate the recipe, skip the frozen meatballs and make your own from scratch.

Serves 6

1 (14 ounce) can beef broth
1 can condensed cream of mushroom soup
2 tablespoons steak sauce
1 packet dry onion soup mix
1 tablespoon Worcestershire sauce
1 teaspoon garlic powder
½ teaspoon paprika
½ teaspoon black pepper
¼ teaspoon nutmeg
⅛ teaspoon allspice
1 (2 pound) bag frozen meatballs
1 cup sour cream
1 (16 ounce) bag egg noodles
Fresh chopped parsley for topping

In a lightly greased 5- to 6-quart slow cooker, whisk beef broth, soup, steak sauce, onion soup mix, Worcestershire and the 5 spices. Add frozen meatballs, stir, then cook on LOW 6–8 hours or HIGH 3–4 hours. Before the meatballs are done, make egg noodles according to package directions. Stir sour cream into the meatballs. Once noodles are done, mix them with the meatballs and top with parsley.