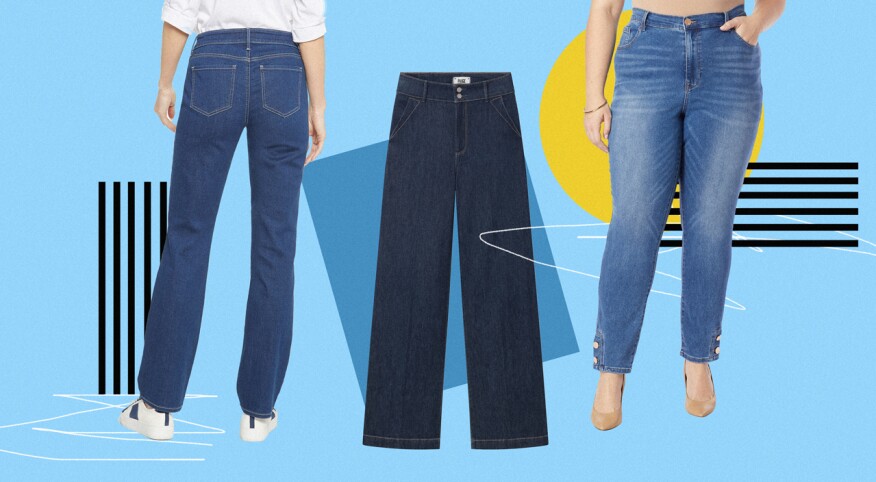 We sat in water-filled bathtubs to shrink them to fit skintight. We splattered them with bleach to lighten their dark indigo blue. And we patched them with flowered fabric to make them look counterculture.

In a wave of youthful creativity, we turned them into purses and miniskirts. And our idols set them to music: "Blue Jean Baby," "Forever in Blue Jeans."

Jeans are to Americans what the beret is to the French and the thong to Brazilians. They define us. They unite us. They speak to us.

Their cotton is not just the fabric of our lives. It is the fabric of our memories. Who doesn't remember a favorite pair of denim bell-bottoms or low-slung Levi's? But mostly, who hasn't wondered what if we'd had spandex in our jeans back then? How much better the fit and easier to breathe it all would have been.

Now that they do have spandex — plus structural innovations and women designers who understand the form and fantasies of their customers — we can keep "looking fast in faded jeans." These five labels live up to their jeans heritage and are certain to write (or add to) their own history. All provide a variety of styles — from the flattering bootcut, to skinny, straight leg and flares — and a range of sizes and washes.

To ensure lasting memory-making, jeans manufacturers recommend machine washing your favorite pair only after 5 to 10 wears. In between, you can spot treat stains with soap, cold water and a cloth or remove dried-on mud with a soft-bristled brush. When machine washing, turn jeans inside out and use cold water. Hang to dry rather than tossing in the dryer, which can prematurely age fibers.

1822 Denim

Its reputation may have been built on buttery-soft skinny jeans, but 1822 Denim also offers more comfortably cut flare and bootcut looks in denim with an impressive 75 percent cotton content. There also are a variety of inseams and sizes like curvy and plus. The brand's moderate price point ($49 to $69) skinnies down even more at 1822denim.com, where you'll find trios of pre-packaged "box" collections for $120. For an in-store option, check out Marshalls, which regularly carries select designs from 1822 Denim as well as high-end department store labels such as Rag & Bone and Lucky Brand.

DG2 by Diane Gilman

For boomer Diane Gilman, it was personal. All she wanted back in the mid-1990s was a pair of jeans that made her feel good about her aging body. Something flattering, comfortable, maybe even a little sexy. What she ended up with were jeans that became instant best sellers on HSN and ultimately earned her the title of Jeans Queen on the digital shopping platform. Today Gilman continues to harness fabric, stretch and structural innovations to create jeans that fans rave about for their fit and comfort. Skinny jeans are the go-to silhouette for DG2, but bootcuts and flares also are available. Some styles have a zipper fly while others are pull-on; all come in multiple washes. Staying true to Gilman's inspiration, DG2 delivers six sizes, from petite to plus tall. Prices range from $45 to $75 at HSN.com.

Levi's

No list of best jeans would be complete without Levi's. After all, this is the company that created blue jeans in 1873 and revolutionized the market again in 1934 by introducing the radical concept of jeans exclusively for women — Lady Levi's. Today's offerings include skinny, straight and bootcuts, like the 315 shaping style with advanced stretch denim and a tummy-slimming front panel. If you're looking for some of your favorites from back in the day, check out vintage options such as the legendary button-fly 501, '70s-inspired flares and '90s mom jeans. Many are available in a variety of washes as well as plus sizes. At Levi.com, you'll also find some of the heavier traditional denim that's 99 percent cotton and occasionally even organic cotton. These pieces tilt toward the higher end of the $70-to-$110 price spectrum.

NYDJ

Founded in 2003 as Not Your Daughter's Jeans, NYDJ quickly made a name for itself with patented Lift Tuck Technology. The proprietary slimming panel features a crisscross design to flatten in the front and enhance curves in the back. The jeans also are cut with a higher rise that hits at the belly button and delivers a smoothing effect. Among the brand's fans are Oprah Winfrey, who added it to her Favorite Things list in 2017. Made of premium stretch denim, NYDJ styles span from super skinny to wide leg. You'll find 66 sizes that encompass petite, plus and tall — along with a denim fit quiz to help you sort through the options — at NYDJ.com. Prices run from $99 to $119 on the brand's website as well as in stores such as Macy's and Neiman-Marcus.

Paige

When hundreds of reviewers rave about $200 jeans, you know they're something special. That's the case with Paige, an LA brand featuring denim that's 90+ percent cotton and silhouettes that run the gamut from low-rise bootcut to high-rise flares to straight-leg designs. If you're still looking for the ultimate skinny jeans, Paige has those too. High-rise and ultra-skinny offerings are woven with Transcend performance fiber, which promises a flawless fit that doesn't stretch out. Paige.com features sizes 23 through 34 and lengths from petite to extra-long. For an in-store experience, Nordstrom provides a range of styles ($199 to $239) to check out and try on.

Where do you buy your jeans? Let us know in the comments below.