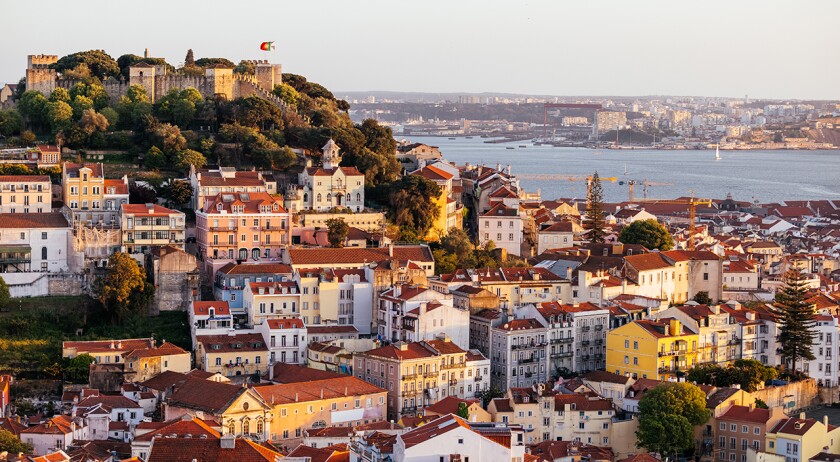 After New Year's, many of us are desperate to escape the gloom and recuperate from the holiday frenzy. A great girls' getaway? Portugal and Spain. Off-season, Lisbon, Barcelona and Valencia are sunny, temperate and surprisingly affordable. Plus, they're fabulous for traveling with friends. I've gone there with my cohorts. A lot.

These three southern European cities offer something for everyone: museums, beachfronts, history, food, shopping, art, music. What's more, Paris they're not. You and your friends won't feel like you're photobombing honeymooners all the time or whispering over fussy candlelit dinners. Iberia is for socializing.

Spanish and Portuguese cultures pinwheel around exuberant nightlife. People of all ages hit the restaurants, bars and cafés. The cuisines are designed for groups: Huge pans of paella and seafood come family style, with a wide variety of small plates (tapas). Bar snacks on toothpicks (pintxos or petiscos) give even picky eaters options and make them feel included. The late-night hours sync well with the body clocks of jetlagged Americans too. You'll be hungry at 10 p.m., fitting right in with the locals.

Portugal's capital, Lisbon, is full of faded majesty and palatial architecture. The tiled medieval streets and Alfama district feel lost in time. Explore carefully on foot. (Escalators and trams can take you up the most vertiginous parts.) Go to the Museu Nacional do Azulejo, celebrating the gorgeous tile work all over Lisbon. Head to Belém's 16th century masterpiece monastery, Mosteiro dos Jerónimos, by the waterfront.

Then get literary! Read a novel by Portuguese Nobel laureate José Saramago beforehand, and reserve a private tour in English at the Casa dos Bicos, the home of the José Saramago Foundation, to learn about the writer's extraordinary life. Our book group did this and came away with a deeper love for both the writer and his city.

As for food, pick a taberna, any taberna, as most are delicious. Go to the Time Out food market, a modern food gallery by the waterfront, for extraordinary razor clams and risotto.

If you're sharing a hotel room, historic rococo Avenida Palace is reasonably priced for a five-star full of Old World glamour. A modest newer option is Rossio Plaza Hotel. Both are superbly located for exploring the city — and for getting out of it. Trains from nearby Rossio station go to the beautiful town of Sintra, with its candy-colored Pena Palace (a must-see). Or take a bus to enchanting medieval Óbidos. Walk the ramparts and stay overnight at historic Casa das Senhoras Rainhas to travel back a few centuries.

Daily flights connect Lisbon to Barcelona. The modern, affordable Hotel Jazz right off Placa de Catalunya is perfectly situated in the heart of the city. So is cozy boutique Hotel Denit. Head to iconic Granja M. Viader café to fuel up on luscious hot chocolate and Catalan pastries, then start walking.

Yes, you must see Gaudí's architecture. Tickets for Casa Batlló, La Pedrera and the incomparable Sagrada Familia Cathedral can be purchased in advance. (Reserve for La Sagrada Familia between 11 a.m. and 1 p.m., when the sun illuminates the upper windows). Attend a concert at the magnificent Palau de la Música Catalana. Buy strawberries at the Mercat de la Boqueria.

Linger in Barcelona's old quarters of El Raval and Barri Gòtic, a labyrinth of beautiful squares and ancient streets crammed with boutiques and galleries. Delve into history. A highlight of my recent girlfriends' trip was a Spanish Civil War walking tour.

If you've been drinking sangria, this tour will sober you up. But the way it makes history come alive is not to be missed. Plus, learning about how Barcelona endured civil war makes today's city all the more inspiring. For authentic tapas, go to tiny Bar del Pla in the old city.

Crave a spiritual experience? Montserrat — a monastery and sanctuary perched amid soaring mountains — is an easy hour away by train. My friends and I stayed overnight at the monastery's Hotel Abat Cisneros, with its lovely restaurant and breathtaking views.

With charming orange-tree-lined streets and buildings as ornate as Spanish lace, Valencia is ideal for strolling. Its medieval center is one of Europe's oldest and home to the domed, art nouveau Mercado Central, a veritable cathedral of food. The Jardines del Turia, a riverbed converted into a public garden, snakes for miles through the city. Near one end is la Ciudad de las Artes y las Ciencias (the City of Arts and Sciences), a jaw-dropping cultural complex that includes a science museum, an opera and an aquarium.

The architecture alone, designed by Spaniards Santiago Calatrava and Félix Candela, is extraordinary. Monumental parabolas, vertebrae and buttresses draped in white mosaic skin glitter, soar and hover above aquamarine pools. It's sensual, futuristic and astonishing.

Every March, Valencia throws its Las Fallas festival, a sort of Spanish Burning-Man-meets-Carnivale. Local artists create enormous sculptures — up to 150-feet high — to be set ablaze in the streets amid fireworks, dancing, traditional costumes and floral parades.

Regardless of when you go, Valencia claims to have invented paella, so take a cooking class. At the wonderful My First Paella culinary school, you feast on homemade sangria and tapas, then cook authentic local paellas alongside spirited chefs. For my friends and me, this experience was the standout of our trip.

If you want to sample more unique Spanish cuisine, A Huevo Restaurante serves up innovative twists at reasonable prices. At Vino y Mil Flores in the gorgeous Mercado de Colón, you can drink bottles of local wine for less than 20 euros while watching the nightlife.

Dimar Hotel offers four-star comfort at two-star prices in a terrific location. Soho Valencia, a streamlined apartment hotel right near the train station, is great value for money. In Iberia, you and your friends won't be starved for pleasures, culinary or cultural — even on a budget — in winter or any other season.

Have any of you been to Portugal or Spain? Would you like to go? Let us know in the comments below.