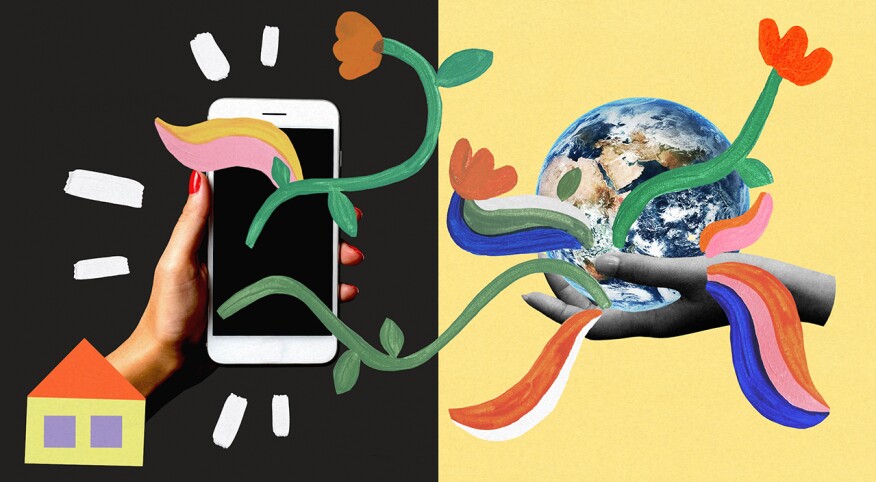 When my kids were little, I volunteered as a class mom. As they got older, the volunteer jobs evolved, and now that they're adults, my help is no longer needed (humph!). As I got older, I had more time to chip in but fewer opportunities. My friends, who have a host of different skills, are equally eager to donate their talent and time. The hard part is finding out where we can help. Even trickier? Getting there.

Weakened immune systems, mobility issues, injury or a lack of transportation can make volunteering a challenge. But if the pandemic taught us anything, it's that if there's a will, there's a way to do it from home.

Luckily, many worthwhile causes offer remote and virtual opportunities. This is good news — and it turns out it's good for us, too. "Volunteering and Health for Aging Populations," a 2011 study by the Population Reference Bureau in Washington, D.C., found the benefits of volunteering include better cognitive functioning, less depression, a greater sense of connection and even longer lives.

Sign me up! Here are a few organizations with help-from-home options. I even found one that needs cupcakes, like in the old days when I baked them for my children's class parties.

Blind and low-vision assistance

Be My Eyes is a free app that provides unlimited assistance to nearly 325,000 visually impaired individuals worldwide, using nothing more than our cell phones. The helpers? Millions of people like you and me. Be My Eyes is easy to use and connects folks who need help reading a label or a sign, picking out a sweater color or identifying a food delivery with volunteers (via a one-way video like FaceTime) who can quickly answer their questions. It's anonymous and you dictate when you're available by just opening the app on your phone.

Connect with cards and letters

Does getting a handwritten letter bring a smile to your face? Imagine the good it will do a sick child, a health care worker, a veteran or someone living in a senior facility. Visit the Writing Wonders website, and a list of organizations accepting letters pops up with how-to instructions, ideas of what to write and a mailing address. Cards for Hospitalized Kids provides crafty ways to decorate your card. Color a Smile sends thousands of volunteers' cheerful drawings to senior citizens, troops overseas and anyone who needs a smile. Download one of their countless free pictures, color it and mail it back to them. They do the rest!

Do you sew, knit or crochet?

Knots of Love and March of the Blanketeers are just two organizations that collect and distribute knitted and crocheted beanies, blankets and teddy bears to preemies and severely ill children and teens. They have guidelines, patterns and sizing information available to get you started.

Support the troops with treats

"May no soldier go unloved" is the Soldiers' Angels motto. Their global network of volunteers provides aid, comfort and resources to the military and veteran community regardless of political or religious affiliations. Join the Soldiers' Angels Baker Team and send monthly care packages filled with homemade cookies, brownies, cakes and other treats to service members around the world. The Soldiers' Angels Sewing and Crafting Team provides soft pillowcases, flannel blankets and other lovingly created handmade goodies to veterans, deployed service members and their families.

Are you an animal lover?

Combine your love of crafts and canines at Project Canis, a new nonprofit that collects homemade toys and distributes them to shelter pets. Download one of their no-sew toy instructions, or create your own using their guidelines. Mail them to Project Canis, and they'll get your toys to shelters or help you connect with one near you.

Readers in need

The Society for the Blind runs the Access News program — a reading service "that allows volunteers to record current news, magazines, circulars and other items of interest to people who are blind, low-vision or cannot read conventional print" over the phone. Fill out an application and if you're approved, they will send you instructions.

Disaster relief

The American Red Cross is looking for remote volunteers to coordinate Disaster Dispatch — linking the Red Cross with local first responders — during the overnight shift (10 a.m. to 6 p.m.).

Help document history

By the People is a program run by the Library of Congress that enlists virtual volunteers to create and review transcriptions for loc.gov to improve the search for and access to pages from history. You can even choose your area of interest — American Red Cross Founder Clara Barton, Frederick Law Olmsted, Civil War correspondence, Walt Whitman, Early American copyright title pages and more.

Not sure where to lend a hand?

Honestly, I wasn't sure either — I just wanted to help and knew I needed something flexible I could do without relying on a ride or worrying about bad weather. I started with the Be My Eyes app and helped two blind women read a UPS package and identify a food delivery. It was such an easy way to help another person. And the technology is very user-friendly. Phew! See for yourself on VolunteerMatch.org or PointsofLight.org. They help match volunteers with virtual opportunities. Use their filter to search listings that also match your needs. It's a win-win!

Do you volunteer? Tell us about it in the comments below.