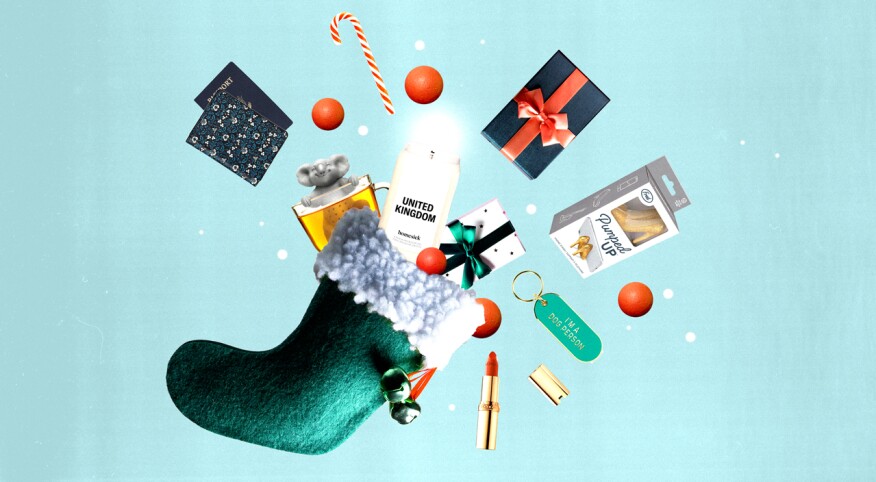 What makes a good stocking stuffer for your favorite women? Something thoughtful, useful — extra points if it shows creativity. And, oh yes, it has to be compact enough to be stuffed down a stocking.

Here are some of our picks for the beloved relatives and besties on your list. While you're shopping, you may want to grab an item or two from below for yourself!

A far cry from the lanyard versions I made at summer camp, today's leather braided bracelets are coveted, cool accessories.


White Rabbit Engraving's braided bracelet can be customized with your giftee's name or a special message — for $25 to $35, depending on the metal finish you choose.

Charger Cord Braided Leather Bracelet from Life Changing Products, $26, doubles as a cellphone charger! With a choice of Android or Apple models, I bought them for my whole family last year.

And maybe not such a far cry from my lanyard-making days, Realeather Crafts Leathercraft Mystery Braid Bracelets Kit is $9.99 from Hobby Lobby.

How about a red lipstick for that hot mama or ardent activist on your list? Suffrage leaders wore red lipstick as a sign of rebellion. Congresswoman Alexandria Ocasio-Cortez told Vogue magazine that she started wearing red lipstick during her first primary election when no one knew who she was and a bold lip is a way to stand out.


Stila's Liquid Lip in Beso, $22, is the congresswoman's choice.

MAC Matte Lipstick, $21, Russian Red, was popularized by Madonna on her "Blonde Ambition" tour. The blue-based red makes teeth look whiter.

For the best red on a budget, it's hard to beat L'Oréal Paris Colour Riche Original Satin Lipstick in True Red, $7.

All of these choices are long-lasting.
And some other ideas:

The Pumped-Up High Heel Phone Stand from Fred is an adorable gift for the fashionista on your list. She can prop up her cell phone with a pretty pair of pumps, designed to cradle the device. The stand comes in shades ranging from red to gold glitter to black, prices begin at $12. Also from Fred: whimsical presents for animal lovers, like Koala-Tea and Bunny Brew Tea Infusers, $12, and I'm a Cat Person and I'm a Dog Person tags and keychains, $13.

For the absent-minded pal who is always searching for her keys? Leatherology's Circle Keychain sports a leather tag available in a host of colors — I'm partial to the electric blue because I can easily see it, even at the bottom of my purse. Price is $15. It's an extra $5 to add hand-stamped monogrammed initials.

Though if you really want to go all-out on a fabulous key chain, as in spend some cash, I hope some loved one reading this will get me Tiffany's Elsa Peretti Eternal Circle Key Ring. Is it expensive? Yes, $150. But it's super chic and do I promise never to lose it? Cross my heart.

In the flurry of the holidays, give the gift of relaxation, as in a sumptuous soak with Prima's Unwind Bath Gem, with 25mg CBD, Epsom salt and magnesium. Available at Sephora for $15 and leaves skin silky smooth.

I'd gift another bath luxury, OUAI's Chill Pills, $30, just for its name. The bath bombs, scented with jasmine and rose, contain a cache of ingredients that also leave skin feeling velvety.

Thinking about a warm and restorative bath naturally leads me to gifting a massage, and both Spa Finder Wellness and Massage Envy offer spa gift cards that can be redeemed throughout the country — check on their websites to make sure there's a spa near where your recipient lives. In general, $50 to $75 will cover a manicure/pedicure and $100 to $150 for a massage, facial or body treatment.

For the traveler, veer toward the Metropolitan Museum of Art's William Morris Eyebright Coated Canvas Passport Holder, featuring one of the famed designer's iconic cotton textile designs, $25.

Kate Spade's black Staci Passport Holder, $35, is also an elegant way to go through customs.

And who doesn't need more sleep in the whirl of the holidays, in their own beds or while in the air?

The LULUSILK Mulberry Silk Sleep Eye Mask, $8.99 on Amazon, is a bargain-priced must for anyone on a long flight.

For an upgrade in fabric and size, go for Brooklinen's Silk Mulberry Eyemask, available in a variety of colors, at $29.

Do you know anyone who doesn't like the peaceful aura a candle creates?

Homesick Candles, $38, says it offers "candles that smell like home," and home can be from all pockets of the world. Choose anywhere from the United Kingdom scent (Earl Grey tea, toffee) to France Wrigley Field (grass, popcorn) to Hawaii (last one smells like pineapple and coconut), starting at $38.

The Soul-Sister Candle is packaged with a heartfelt, slightly mushy message, perfect for a bestie. It's $18 on Etsy and comes in delicious scents like Blueberry Cheesecake and Cinnamon Donuts.

I've never lit my Bubble Cube Candles, preferring to use these eye-catching cuties as decorations around my house; they come two to a pack for $8.99 on Amazon.

Finally, who doesn't have a diehard foodie on their stocking stuffing list?

The Whisk from Copina Company, $24, is a rechargeable device designed to whip up anything to frothy perfection.

Melinda's Habanera Hot Sauce Variety Pack, $16 on Amazon, includes five beautifully bottled 5-ounce sauces in a range of hotness.

Then, for that old-fashioned gal who may have even gotten this sent to her home as a child, there's always a gift card that delivers a seasonal fruit every month, available from different providers such as Harry and David, The Fruit Guys and The Fruit Company.

Though, really, the best stocking stuffer I ever got was this simple message from my then 7-year-old daughter, "I love you," wrapped in a piece of paper she decorated herself and tied with a piece of red yarn. It cost nothing and meant everything.