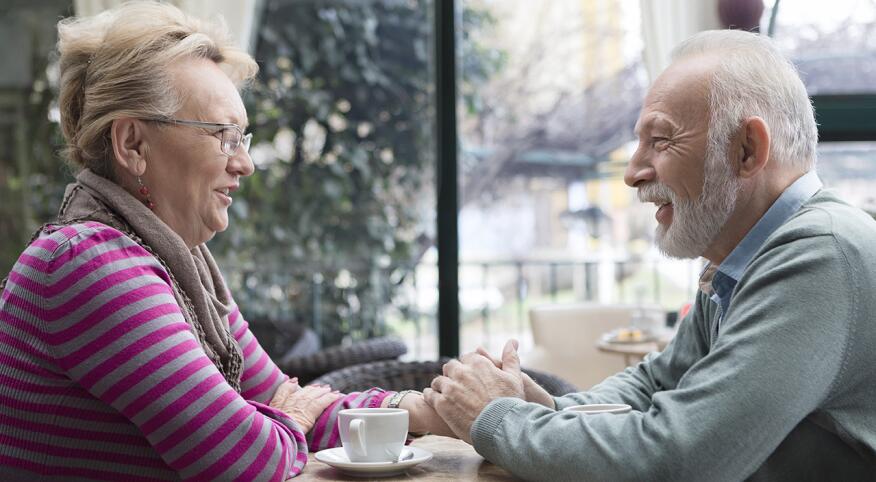 It could be you, your spouse, or your partner. When one person has hearing loss, it affects the entire family. Open communication is key to making sure everyone is on the same page. Whether you're revealing your own hearing loss or talking to family members about theirs, here are a few things to remember.1 

An explanation is essential. Hearing loss is difficult to understand for people who haven't experienced it, so explaining symptoms can help.  

Emotions should be shared. Being open with the emotions you're experiencing, like frustration or sadness, helps keep family relationships closer together.  

The stigma needs to be broken. When hearing loss is treated as an ordinary part of the family dynamic, people will become more comfortable addressing it.  

A sense of humor doesn't hurt. Miscommunication happens, but sometimes it can be amusing if not taken too seriously. 

Having a conversation with someone who has hearing loss 

Talking to someone with hearing loss may be challenging for those of us who aren't used to it. Be patient and compassionate. Here are a few tips on what to do — and not do — during conversation. 

Do:2,3 

Get a person's attention before speaking 
Face the person while speaking  
Limit background noise 
Keep your hands away from your face  
Speak naturally  
Rephrase rather than repeat misunderstood speech 
Do not:4

Tell the person to turn up their hearing aids 
Say, "never mind" or "I'll tell you later" 
Become impatient or frustrated with the person 
Assume the person knows sign language 
Ask questions or start a conversation from another room 
What you can do for your loved one 

It is helpful for spouses, other family members, and caregivers to communicate to the person with hearing loss the challenges the condition is creating. One strategy is to write a handwritten letter describing how the person's hearing loss adversely affects friends and family members. It is best to avoid using texts and other forms of electronic communication, considering the delicate nature of the subject.

If you notice your loved one continues to struggle to communicate even after obtaining hearing aids, there could be several reasons. It's possible the hearing aids need to be adjusted, or the individual's current device isn't a good fit for their degree of hearing loss.

Consider a gentle approach if you have a spouse, partner, or family member who is struggling to acknowledge a hearing problem. Let the person know their condition is affecting friends and family members too. Today's hearing aids are more powerful and discreet than ever, making them an effective treatment. Hopefully with some patience and compassion you can convince them to take action to obtain treatment. 

A quick, simple hearing test.

An online hearing test is a quick and easy way to tell how well you or your family member hear. Results can indicate whether or not you should schedule an in-person hearing test with a local hearing provider.  

Click here to take a FREE hearing test from the comfort of your home. Visit www.aarphearingsolutions.com/hearingtest/ today. 


DISCLAIMER: The online hearing test is not intended to act as a substitute for professional medical advice, diagnosis, or treatment. Talk with your healthcare provider with any question about a medical condition.   

Sources:
1 The Hearing Journal. "How to Talk to Your Family About Hearing Loss." journals.lww.com/thehearingjournal/fulltext/2020/03000/how_to_talk_to_your_family_about_hearing_loss.10.aspx.  

2 The Hearing Journal. "How to Talk to Your Family About Hearing Loss" journals.lww.com/thehearingjournal/fulltext/2020/03000/how_to_talk_to_your_family_about_hearing_loss. 10.aspx.  

3 Cleveland Clinic. "Hearing Loss: Tips to Improve Communication with People with Hearing Loss." My.clevelandclinic.org/health/articles/4050-hearing-loss-tips-to-improve-communication-with-people-with-hearing-loss.  

4 Hearing Like Me. "8 Things not to say to someone with hearing loss." Hearinglikeme.com/8-things-not-to-say-to-someone-with-a hearing-loss/.   


2023 United HealthCare Services, Inc.  

The AARP hearing program discount cannot be combined with any other discounts, promotions, coupons or hearing aid benefit plans unless noted herein. Products or services that are reimbursable by federal programs including Medicare and Medicaid are not available on a discounted or complimentary basis. AARP commercial member benefits are provided by third parties, not by AARP or its affiliates. Providers pay a royalty fee to AARP for the use of its intellectual property. These fees are used for the general purposes of AARP. Some provider offers are subject to change and may have restrictions. Please contact the provider directly for details. UnitedHealthcare Hearing is provided through UnitedHealthcare, offered to existing members of certain products underwritten or provided by UnitedHealthcare Insurance Company or its affiliates to provide specific hearing aid discounts. This is not an insurance nor managed care product, and fees or charges for services in excess of those defined in program materials are the member's responsibility. UnitedHealthcare does not endorse nor guarantee hearing aid products/services available through the hearing program. This program may not be available in all states or for all group sizes. Components subject to change.