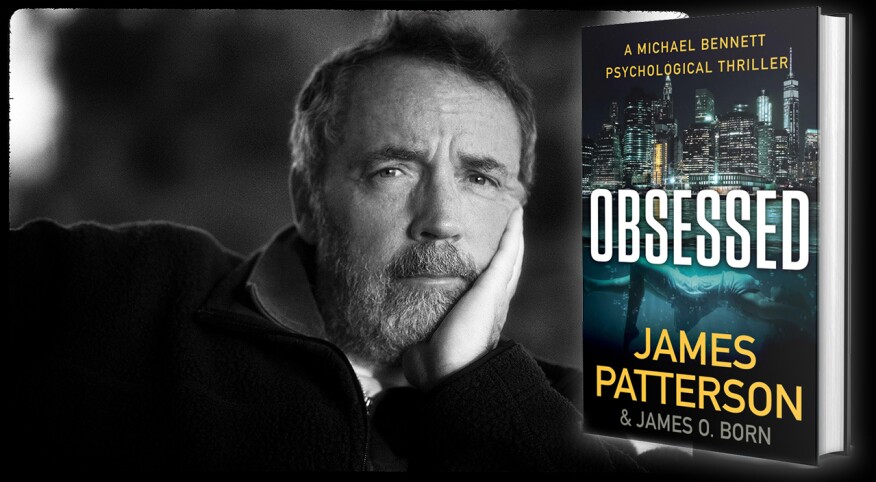 Thriller alert! If you're eager for a spellbinding book to pack in your suitcase for your summer vacation or escape with to your balcony or backyard, you'll want to put Obsessed at the top of your reading list. The 15th book in James Patterson's Michael Bennett series, it's a must-read for fans of fast-paced, suspenseful stories – whether you've been anticipating the latest Bennett crime-solving tale or you're a newcomer to books by the mega New York Times best-selling author.

The story

It might be the most harrowing case NYPD Detective Michael Bennett has ever faced. A killer is on the loose, targeting young women throughout New York City. The methods of the murders vary. One early victim was strangled and dumped in the Hudson River, and another was killed with a single cylindrical puncture wound to the heart. But the victims have something in common beyond their youth and beauty – they were dressed for a night on the town when they were murdered and had secret stashes of money hidden at home. As the killing spree continues, Bennett has a heart-stopping realization. His eldest daughter is a perfect match for the victim profile. One possible victim of the serial killer was his daughter's friend. Could his daughter be next?

While Bennett and his partner, Terri Hernandez, race to crack the killer's code, the detective also confronts challenging family matters, from his new wife's fertility challenges to his sons being bullied at school.

The detective

Fans of psychological thrillers have cherished Detective Michael Bennett since his 2007 introduction in Step on a Crack. In that book, Bennett, the father of ten adopted children, tries to rescue dozens of the most powerful people in the world who are taken hostage at the funeral of a former First Lady. At the same time, Bennett is dealing with the devastating loss of his wife to cancer.

Over the books that follow, the 6'3", 200-pound Irish-American Bennett brings serial killers, vicious kidnappers, the deadly Mad Bomber, ruthless drug lords, and even a depraved murderer suspected of cannibalism to justice. All the while, Bennett will manage his large brood through hurdles big and small, including when all ten kids come down with the flu at the same time. And he'll find love again with Mary Catherine, the family's former nanny – though a serial killer will crash their wedding.

The author

James Patterson is the world's best-selling living author, with over 260 New York Times bestsellers and more than 400 million copies of his books sold worldwide. His famous literary collaborators include both former President Bill Clinton and Dolly Parton. Along with Michael Bennett, Patterson's revered characters and series include Alex Cross, the Women's Murder Club, Maximum Ride, Dog Diaries, Treasure Hunters, and I Funny.

You'll love Obsessed if…

You're a James Patterson fanatic.
You enjoy books with suspense, twists and turns, and edge-of-your-seat drama.
You appreciate stories with a strong family dynamic.
You're eager to immerse yourself in a character and book series that takes you on a reading journey through the summer and beyond.