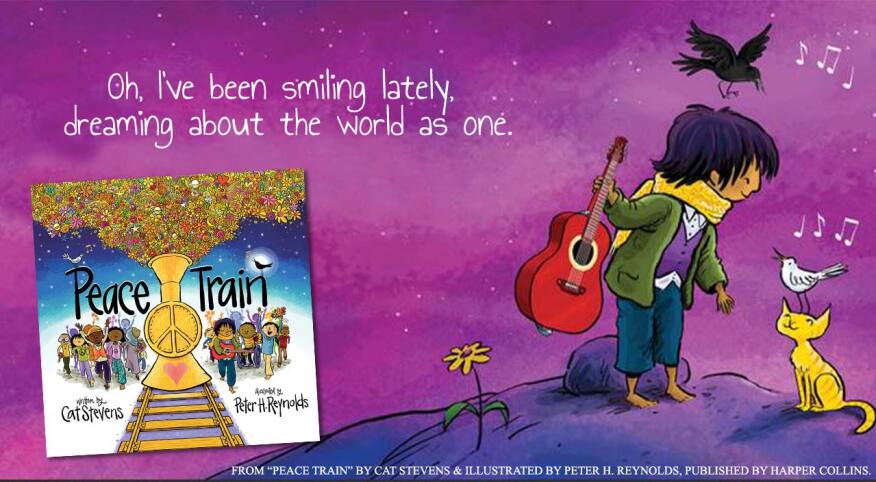 Do you love reading with the special kids in your life? If you're looking for a new book to share and you enjoyed the music of Cat Stevens, then you'll want to put Peace Train on the top of your reading list.

This new picture book adaptation of the legendary anthem has been released to commemorate the song's 50th anniversary. Gorgeously illustrated by New York Times bestselling artist Peter H. Reynolds, Peace Train features the timeless lyrics of Cat Stevens' iconic song. Readers are invited to hop on the Peace Train and join the other passengers ready to unite the world in peace and harmony.

About the author and illustrator

Cat Stevens, 70s troubadour and inductee of the Rock & Roll Hall of Fame, is one of the most influential singer-songwriters of all time. He's known worldwide for hits like Father & Son, Moonshadow, Morning Has Broken, and Wild World.

Peter H. Reynolds is an acclaimed writer, storyteller, and illustrator. He's both the author and illustrator of celebrated books like The Dot and The North Star, and the illustrator of bestsellers by other writers, including Megan McDonald's Judy Moody and Stink books.

In each other, Reynolds and Stevens have found the perfect collaborator for their message of hope and harmony. "I wrote these lyrics more than 50 years ago, and I know the words still boom as true and loud today as they did in the 1970s," says Stevens of Peace Train. "It's incredible to see how Peter Reynolds has made the words jump into life in brilliant style for a new generation with his joysome illustrations."

Reynolds adds, "One of my first albums was a Cat Stevens' record when I was a boy. His lyrics moved me and inspired me to forge my own 'rails' to create meaningful picture books for all ages. Peace Train's powerful message is more important than ever, and I'm beyond honored to collaborate on this 'duet'."

How children will engage with this book

This engaging book will help spark meaningful conversations with youngsters about what peace, understanding and kindness look like in today's world. You'll want to read Peace Train aloud with the kids in your life and buy a copy for them to keep.

Bonus: Kids can experience the book's hopeful message beyond its covers. The free online activity guide has lots of fun ways kids can ride the Peace Train, help it on its journey, and make their own "peace pledges," like promising to learn about other cultures and embrace diversity.

Read Cat Stevens' heartwarming children's book and purchase a copy for your favorite kids!