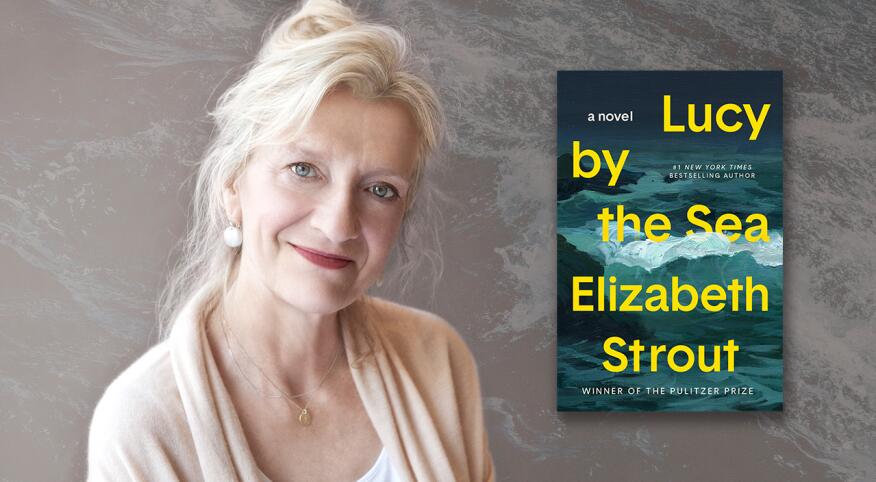 Fall is here, and what better way to welcome in the start of crisp weather than by settling into a favorite chair with a great book? Elizabeth Strout's latest novel, Lucy by the Sea, is a deeply pleasurable, poignant novel – the perfect read to begin a new season.

As the pandemic forces everyone into lockdown, Lucy Barton finds herself whisked away to a coastal town in Maine by William, her ex-husband and on-again, off-again friend.

Lucy and William are isolated together in a small house nestled against a swirling sea. They develop a "strange compatibility" as they confront their complex past and difficult events in their family life – including their two daughters' marital and health crises. They find hope even as the world seems to be falling apart.

About the Author
Elizabeth Strout is the #1 New York Times bestselling author of Lucy by the Sea; Oh William!; Olive, Again; Anything Is Possible, winner of The Story Prize; My Name Is Lucy Barton; The Burgess Boys; Olive Kitteridge, winner of the Pulitzer Prize; Abide with Me; and Amy and Isabelle, winner of the Los Angeles Times Book Prize's Art Seidenbaum Award for First Fiction and the Chicago Tribune Heartland Prize. She has also been a finalist for the PEN/Faulkner Award and the Orange Prize in London.

Why You'll Love This Book
Rich with empathy and emotion, Lucy by the Sea is a resonant relatable novel that explores the wisdom that comes with aging, the beauty of quiet days, the deep joy of reconnecting with adult children, and the comfort of an old, enduring love.

As always, Strout writes in a voice that is spare, crystalline, and penetrating. She vividly captures the resilience of her characters, exquisitely documenting the fragility and strength of the human heart as it navigates love, loss, yearning, loneliness, and hope.

Strout has said, "It is not 'good' or 'bad' that interests me as a writer, but the murkiness of human experience and the consistent imperfections of our lives." Lucy Barton is a singular heroine – flawed in some ways, indomitable in others, and always believable.

This fall, discover – or revisit – one of contemporary fiction's most celebrated authors, who has earned countless accolades from both critics and her fellow authors. Lucy by the Sea, as well as Strout's previous novels, are available now.

Click here to purchase your copy of Lucy by the Sea!