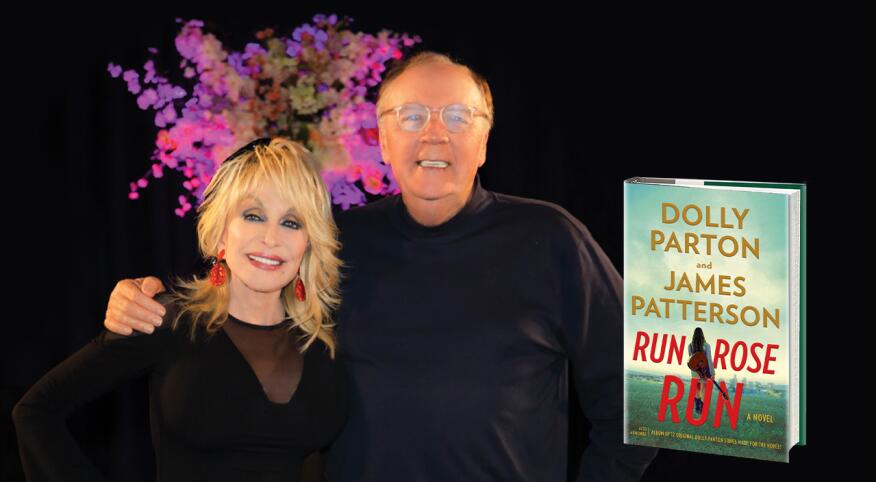 Knowing the vivacious Dolly Parton and the masterful James Patterson have co-authored their first book together might be reason enough to pick up a copy of Run, Rose, Run. But this new thriller stands on its own as a heartfelt, mysterious page-turner you won't be able to put down.

Exciting twists and turns
On the run from a relentless enemy, AnnieLee Keys enters the Cat's Paw Saloon with a prayer and a song, knowing she's going to have to sing for her survival. As luck would have it, she catches the eye (and the ear) of local singer/songwriter Ethan Blake, who just happens to be a staff musician for retired country legend Ruthanna Ryder. Impressed with AnnieLee's pluck, her voice, and her deeply emotional songs, Ruthanna pulls a few guitar strings and helps AnnieLee get some gigs in town.

But as AnnieLee becomes more famous, some men from her past will do anything to drag her back to her roots. Can AnnieLee shake her past and make a name for herself in country music?

Iconic co-authors
Readers know James Patterson as a prolific author of thrillers and a master of twists, turns, and well-developed characters. Now, Patterson has teamed up with country music legend and philanthropist Dolly Parton to bring her real-life experience to the pages of this engrossing thriller.

And the country hits aren't confined to the pages of Run, Rose, Run. In tandem with the book, Parton has released a new album of the same name, featuring 12 original songs whose lyrics help deepen the reader's understanding of the story.

The simultaneous release of both the book and album marks the first time a #1 bestselling author and an entertainment icon have collaborated on two partner projects. Patterson and Parton have both brought their unique expertise to this collaboration. Parton's storied life influences the characters and helps build an authentic world that feels rooted in reality. Meanwhile, Patterson's reputation as the king of thrillers guides the plot at every turn.

Of the book and the album, James Patterson said, "It's been an honor – and a hell of a lot of fun – to work with the inimitable Dolly Parton, whom I've long admired for her music, her storytelling, and her enormous generosity. The mind-blowing thing about this project is that reading the novel is enhanced by listening to the album and vice versa. It's a really unique experience that I know readers (and listeners) will love."

Country music fans and mystery-lovers alike will find something to love in Run, Rose, Run. In AnnieLee, Patterson and Parton have imagined a heroine with admirable ambition, determination, and spunk (not unlike Parton herself). Readers will root for her success as she blossoms from open mic singer to bonafide country ingenue.

You'll fall in love with the well-meaning characters and cheer for AnnieLee as she slowly but surely finds her place under the bright lights of the Nashville stage. Run, Rose, Run is available to purchase now – click the link below. Get your copy today before everyone else in your book club finishes it!

Click here to purchase your copy of Run, Rose, Run!