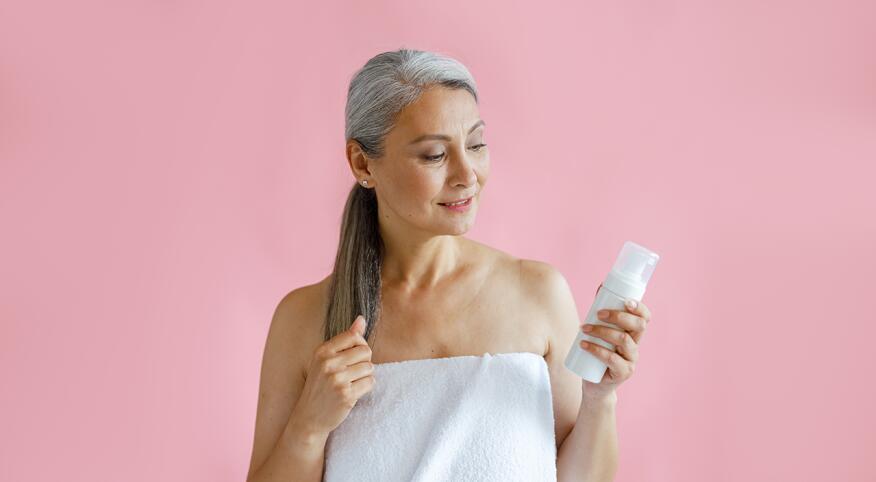 We all know that aging goes hand-in-hand with some changes in our physical appearance. But what you might not know is your hair ages right along with the rest of your body. While graying hair is probably what most women associate with aging, thinning hair is also common.

You don't have to resign yourself to a sparser scalp as you age. In fact, you can proactively prevent thinning hair by applying healthy hair treatments and washing your hair the right way. Yes, it's true – there is a right way to wash your hair for healthier, thicker locks as you age.

Here's how to wash your hair to reduce thinning.

Cut down on hair wash frequency
In the past, you might have washed your hair every other day, after every workout, or maybe even every time you showered. However, over-washing aging hair can lead to hair loss and/or thinning.

Instead of washing several times a week, gradually cut back to two to three times per week. On the days you don't wash, you can use dry shampoo, stylish headbands, or a bit of thickener spray to refresh and restyle next-day hair.

Use quality shampoos and conditioners
In your 20s, you might have been able to get away with a drugstore shampoo and conditioner that has a long list of unpronounceable ingredients. As you age, however, it's essential to wash and condition with gentle, sulfate-free products. Shampoos containing sulfates can be such powerful cleansers that they might pull the natural oils out of your hair, causing a dry, brittle texture. Plus, sulfates can cause redness, dryness, and irritation on sensitive scalps.

Your best bet? Switch to a sulfate-free line of shampoo and conditioner. These can be both gentle enough to reduce breakage and powerful enough to effectively boost volume and strengthen thin strands. Better Not Younger's Wake Up Call Volumizing Shampoo and Conditioner are good options. They are both sulfate and paraben-free and, when used together, are clinically shown to reduce breakage by 98%1.

Treat your hair and scalp kindly
Scalding hot water, a rushed shampoo and rinse, frequent heat styling, and chemical-laden products won't do your hair any favors in the long run. In fact, they might be actively damaging your hair and speeding up any age-related thinning.

Start by turning down the temperature dial as you wash your hair. Avoid heat styling appliances like hair dryers, straightening irons, and curling wands as much as possible (and if you absolutely must style, apply a heat protectant spray first). Exposure to high heat changes the shape of your hair's keratin strands, weakening hair over time.

Also, treat yourself to a quick scalp massage while you're in the shower or when applying a serum or treatment. Scalp massages have been linked to thicker hair growth by stretching and stimulating the cells of hair follicles. For an extra spa-like experience, use a scalp massager and serum activator. Better Not Younger's award-winning Superpower Fortifying Hair and Scalp Serum incorporates natural ingredients such as caffeine and tiger grass for thicker, healthier hair. 97% of women saw visible improvement after 8 weeks of use2.

You're getting better with age, and your hair should too. Better Not Younger offers a full line-up of hair products such as the Wake Up Call Volumizing Shampoo and Conditioner. They are free of sulfates and parabens and safe for colored, keratin-treated hair.

Get the best products for your hair at Better Not Younger. Take advantage of the AARP Special Member Offer to get 25% OFF any Better Not Younger hair care purchase with code GREAT25. 


1,2 Based on a 3rd party consumer usage study. Individual results may vary.