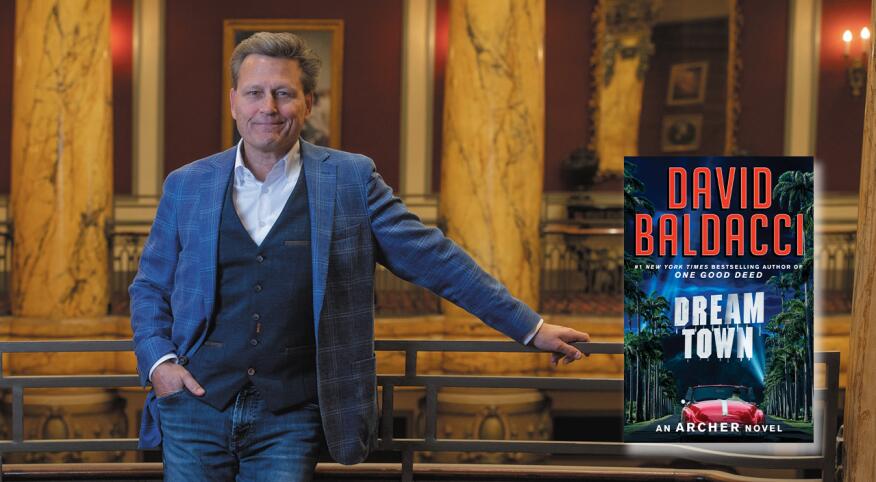 Are you itching for a new thriller to add to your summer reading list? Look no further! Aloysius Archer, the unforgettable, straight-talking private investigator and decorated World War II veteran, is back in the fast-paced Dream Town. It's the third novel in David Baldacci's Archer thriller series.

Synopsis
It's New Year's Eve 1952. Thirty-year-old gumshoe Archer is celebrating at a restaurant in Los Angeles with his old friend, aspiring actress Liberty Callahan. While Frank Sinatra, Groucho Marx, James Cagney, and Clark Gable enjoy the revelry in nearby booths, Callahan introduces Archer to her friend Eleanor Lamb. Eleanor is a screenwriter with a serious problem. "I think," she tells Archer, "someone might be trying to kill me."

Soon the decorated soldier turned ex-con is ensnared in the lethal case. A bloody knife left in a kitchen sink, a dead body that turns up in Eleanor's Malibu home, the disappearance of Eleanor herself, and an attack on Archer that leaves him unconscious are just the beginning in this gripping historical crime novel.

Archer is dead set on finding Eleanor and discovering the truth. And he's in danger of ending up dead himself as he follows a trail that takes him from a mob-ruled Las Vegas to the heights of Hollywood glamour and some very dark alleys in gritty LA.

This riveting novel follows the first two in the Archer series, One Good Deed and A Gambling Man. Dream Town finds the principled but flawed private detective as quick-witted and fast on his feet – and with his fists – as ever. And he's still driving the blood-red 1939 Delahaye convertible he won in a poker game.

Author
A #1 New York Times bestselling author, David Baldacci has published 44 novels for adults. All have been national and international bestsellers. Several have been adapted for film and television. Baldacci's novels are published in over 45 languages and more than 80 countries, with 150 million copies sold worldwide. He has also published seven books for young readers.

Praise From Critics
Critics agree. Dream Town is a dream of a thriller.

"Baldacci paints a vivid picture of the not-so-distant era…The 1950s weren't the fabled good old days, but they're fodder for gritty crime stories of high ideals and lowlifes, longing and disappointment, and all the trouble a PI can handle. Well-done crime fiction. Baldacci nails the noir." – Kirkus Reviews (Starred)

"[A] welcome third outing for PI Aloysius Archer…Solid prose nicely evokes the traditional hard-boiled whodunit." – Publishers Weekly


Click here to purchase your copy of Dream Town!