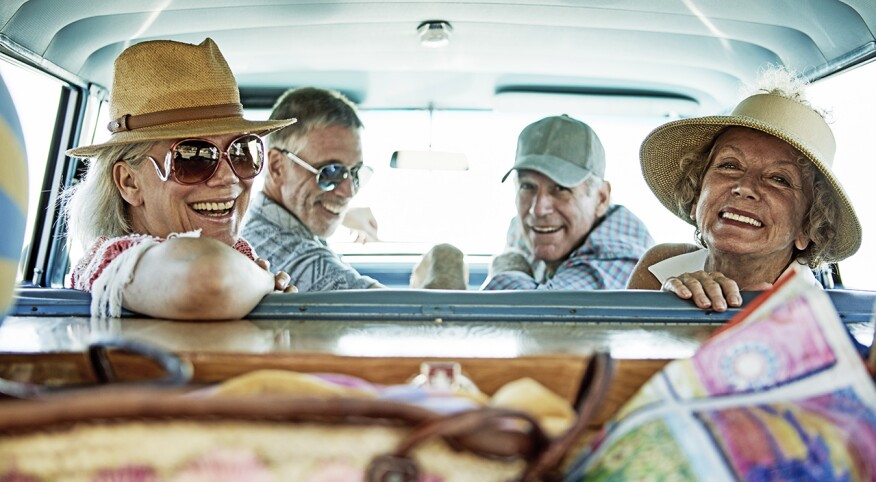 Finding yourself stuck in a rut or in need of a fresh perspective? Sometimes all that's required is a quick getaway with a change of scenery and new experiences to put a smile on your face. You won't be alone. 86% of people surveyed by AARP plan to travel within the U.S. in the next year.1 These road warriors prioritize exploring places to eat, drink, and shop, along with sightseeing and enjoying recreational activities like hiking and nature walks.

Whether you're headed to the coast or roaming through the Rocky Mountains, few journeys are as satisfying as a road trip. Read on to see why your 2023 vacation plans should include hitting the open road.

You'll save money.
Skip the busy airport and the high cost of flying, which can quickly add up to hundreds of dollars when you include tickets and add-ons like paying to check a bag. You can plan ahead and set a budget for affordable hotels and discount dining, thanks to AARP benefits. That way, your money goes further.

You can be flexible and spontaneous.
No need to stick to rigid schedules and get to the airport hours ahead of time. With a road trip, you're in total control. Hop in the car first thing in the morning or enjoy a more leisurely pace before checking out of your hotel. Pull over on a whim to take in breathtaking scenery. Stop at that roadside stand to sample regional specialties. Being spur of the moment is what road trips are all about!

You can visit family all over the country.
With a car, you're not limited to locations with a major airport nearby. See the grandkids in Trenton, New Jersey, or visit your sister in Starkville, Mississippi. Wherever the road takes you, there's family waiting at the end. Plus, having your own set of wheels will give you added freedom during your visit.

You can see unique attractions.
Check those special sites off your bucket list. A road trip can create a set of memories that will last a lifetime, whether it's a quirky roadside attraction (like a life-size cow sculpture made of butter or the world's largest ketchup bottle) or majestic national parks. Discover new landscapes you would never be able to see from the tiny window of an airplane.

Take advantage of hotel loyalty program benefits.
Since you'll need a place to sleep each night, road trips are the perfect occasion to use your hotel loyalty program benefits. Joining hotel loyalty programs often gives you benefits like free hotel stays, discounted event tickets and early notification of upcoming sales. Or, if you've been a loyal member and have stacked up points over the years, now's the perfect time to redeem your stash. That way, your stay becomes as affordable as possible.

Looking for a place to stay on your road trip? Red Roof has tons of convenient locations throughout the country, so you can book a hotel wherever the road winds this year. And if you're traveling with pets, Red Roof's pet-friendly policy allows your furry friend to stay by your side the entire trip.

With AARP's partnership with Red Roof, your stay becomes even more affordable. AARP members get 10% off the best available room rate with reservations booked online or by phone. There's a flexible cancellation policy in case plans change.

And, as part of Red Roof's 50th Anniversary Celebration promotion, Red Roof is helping ease the cost of coveted summer vacations for travelers by offering free hotel stays and special prizes now through September 5, 2023. "RediReward" members can earn bonus points for a free night, discounted Member Exclusive Rates, and enter into the Red Roof Sweepstakes* to qualify for the chance to win the ultimate prize of a cruise or an Orlando vacation package.

Click here to save 10% with your AARP member benefit at over 680 Red Roof locations nationwide! 


*No purchase necessary. 50 US/DC. Must be a RediRewards member when entering, 18+.

Ends 9/5/23. For rules/eligibility, visit https://www.redroof.com/deals/national-deals/summer-deal/sweepstakes.

AARP commercial member benefits are provided by third parties, not by AARP or its affiliates. Providers pay a royalty fee to AARP for the use of its intellectual property. These fees are used for the general purposes of AARP. Some provider offers are subject to change and may have restrictions.

1AARP Media Advertising Network Q1 2023 Omnibus Study.