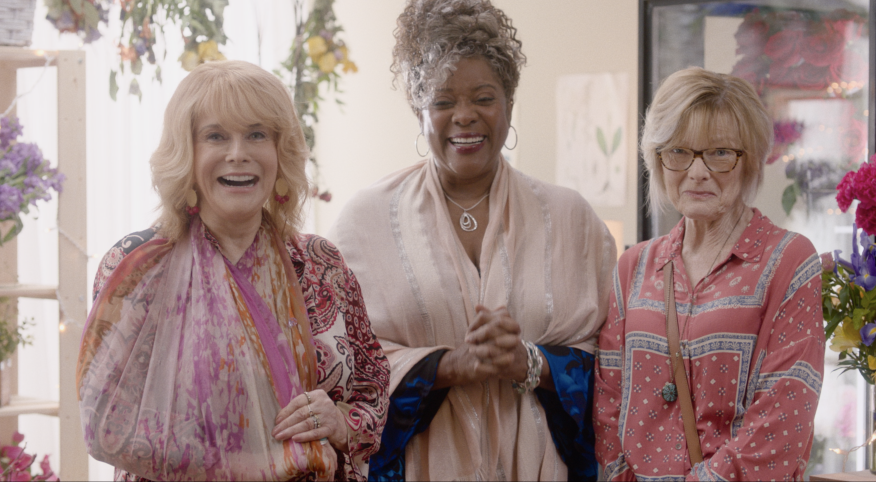 They say age is just a number, and you're only as old as you feel. If this is your mantra, you'll feel a kinship with the characters of the new movie Queen Bees, which you can now watch On Demand or own for the first time on DVD or Digital August 10. The film features a delightful cast of award-winning actors, including Ellen Burstyn, Jane Curtin, Ann-Margret, Loretta Devine, James Caan, and Christopher Lloyd.

Queen Bees is a heartwarming comedy about Helen, a fiercely independent woman in her golden years who temporarily and reluctantly moves into a retirement community while her house is being repaired. In the Pine Grove Senior Community, she forges her own path to fit in, despite the "popular" clique of ladies excluding her from the bridge club and the persistent advances of charming widowers.
Courtesy of Gravitas Ventures


Staying young at heart is a matter of ignoring social expectations and following your passions. Here are three ways Queen Bees inspire us to stay young at heart:


Learn – You know the saying, "you're never too old to learn something new"? Well, it's true! Open your mind, take a class, and explore a topic you've always been curious about. Whether you choose a painting class, learn how to play poker, or perfect your form on the pickle ball court, you'll benefit from the cognitive stimulation. You may even maybe learn something new about yourself in the process!

The Queen Bees of Pine Grove may all be past 70 years old, but they show us there is no age restriction to reap the rewards for expanding our horizons – to both minor new experiences (ah, the bliss of shiatsu massage), and major self-improvement (learning to apologize, forgive, and love again).

Give – Make a difference and new connections when you volunteer in your community. This is one way to get to know your community better and also a way to make new friends. Volunteering can enrich your life on multiple levels.

As the characters of Queen Bees realize, the connections we make with friends can be stronger than family. Friends can make us laugh more, cry less, and just be by our side in times of need. Our closest friends accept us when we're at our best, and when we're not.


Laugh –The simple act of laughing with friends is an immediate mood booster. Bring the gang together for movie night and let the good times roll. If you're looking for a sweet, funny, poignant movie, gather friends to watch Queen Bees.
It's been a rough year, and whether you've been challenged mentally, emotionally, physically, economically – we can agree that laughter is great medicine. The talented cast of Queen Bees delivers on the humor. Be ready to laugh out loud when a birthday poker game gets out of hand, and when Helen and Sally discuss a problem plaguing many women. The solution? Ta-Ta Towels!

Watch Queen Bees On Demand today or click here to see where you can purchase Queen Bees on DVD and Digital.