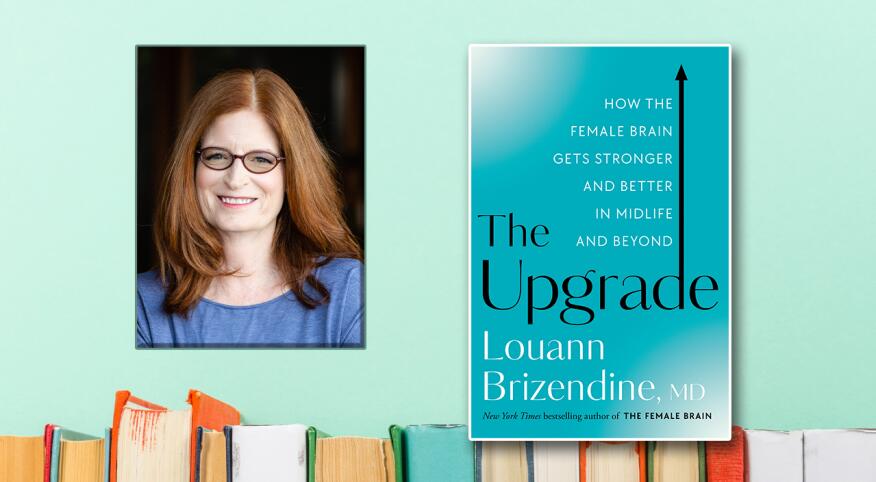 From retirement to welcoming new grandchildren, changes in the second half of life can be exciting. One change that often gets a bad rap, however, is menopause. This stage in life can bring challenges, but that doesn't mean you're fated to endure some of the commonly perceived menopause symptoms like mood changes and mental fog.

In her new book, The Upgrade: How the Female Brain Gets Stronger and Better in Midlife and Beyond, The New York Times bestselling author Louann Brizendine, M.D., invites women to reexamine the way they feel about aging, especially during the life stage of menopause. According to Brizendine's research, women's brains are reshaped for the better in the second half of life in a way that creates new power, a bracing clarity, and a laser-like sense of purpose if women know how to seize it.

During this time, as the need to cater to others diminishes, women become more centered, while retaining their gift of perception. Additionally, the change in the ratio of estrogen to testosterone makes women more direct and able to speak out. There's also a drop in anxiety that allows the female brain to flip its attentional style from multitasking to focusing on one thing at a time.

Steps to preserving brain health

In The Upgrade, Brizendine outlines science-backed strategies for preserving brain health and ensuring you're living to your full potential. Here's a sneak peek at the strategies:


Hormone Management: The latest guidance for hormone replacement therapy – HRT
Exercise: There's a direct correlation between muscle strength and healthy brain function
Sleep: How to achieve healthy rest during challenging transitions
Mindset: How to seize the opportunities of your midlife brain changes by shifting your mindset and vision with intention
Brain Health: Advice for fueling and maintaining cognitive function for decades
The Upgrade  amounts to a celebration of how women step into their power and an entirely new—and radically positive—understanding of aging.

About the author
Louann Brizendine, M.D., is a neuropsychiatrist, researcher, bestselling author, and public speaker who specializes in the neurobiology of male and female brains. Her first book, The Female Brain, provides a scientific understanding of how women think, feel, and communicate. It has been instrumental in helping guide women as they progress through life stages. The Upgrade takes those insights a step further and inspires women to embrace their new power and sense of purpose as they get older.

The Upgrade is available to purchase now! Grab a copy, start a book club with friends and family, and use the discussion guide to get everyone talking. Remember, even during menopause, the best years of your life are in front of you!


Click here to purchase your copy of The Upgrade!