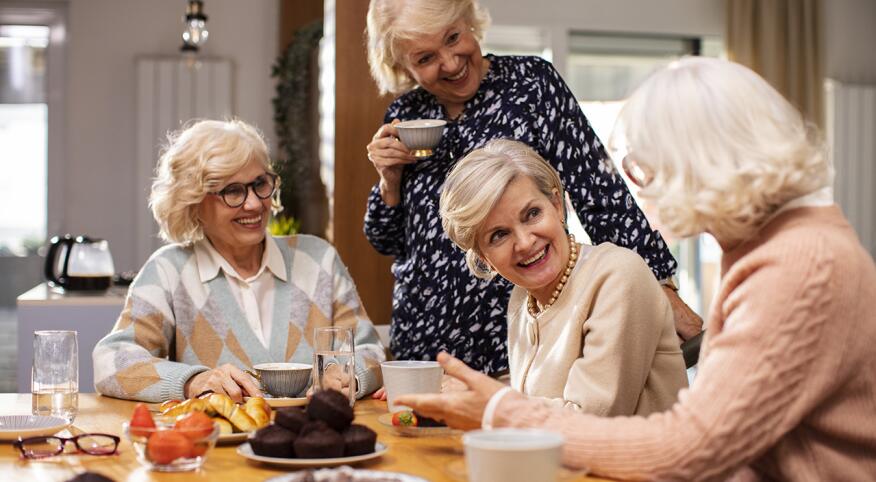 If you're even the most casual reader of the nutrition pages of newspapers or magazines, you've no doubt come across stories advising you to eat more fiber. A quick glance at these articles, and you've probably gotten some vague sense that foods rich in fiber are good for your health.

In fact, the benefits of a high-fiber diet are so significant, it's worth getting a little more familiar with this essential nutrient. So, below, in a nutshell (and many nuts, by the way, are a good source of fiber!), is what you need to know.

A high-fiber diet helps keep the digestive system running smoothly

Some foods – like oats, beans, peas, citrus fruits, apples, and barley – contain fiber classified as soluble, which means it dissolves in water. Other foods – including whole grains like quinoa and whole-grain cereal, green beans, cauliflower, and leafy greens – contain mostly insoluble fiber. Insoluble fiber doesn't dissolve in water. This type of fiber adds bulk to foods which helps it move through your digestive system. At the start, that means it helps you feel full (hello, hunger pangs!). And later, it helps keep you regular and comfortable (phew!).1, 2

Both types of fiber should be staples in your daily diet. Insoluble fiber is good for your internal plumbing, helping food move through your digestive system and promoting healthy bowel movements. Fiber is a vital nutrient at any age, but it's especially critical as we get older, since our digestive systems can get a bit sluggish. According to the 2020-2025 Dietary Guidelines for Americans, the recommended daily fiber intake is 14 grams per 1,000 calories of food. The Daily Value (DV) of fiber for food labeling is 28 grams. This is based on a 2,000-calorie diet. Your specific Daily Value may be higher or lower depending on your calorie needs.

Adding Fiber to Your Diet

You may be wondering how to get more fiber in your diet. Luckily, it doesn't have to come in a sad capsule or a dusty jar of powder. Fiber One Cereal is made with whole grain and is an easy way to add higher fiber to your diet. Here's a nutritious and delicious muffin recipe incorporating Fiber One Cereal that can help you better meet your daily fiber goals!


Banana-Cranberry Spice Muffins
Think of these delicious muffins as spiced mini banana breads sprinkled with tart cranberries.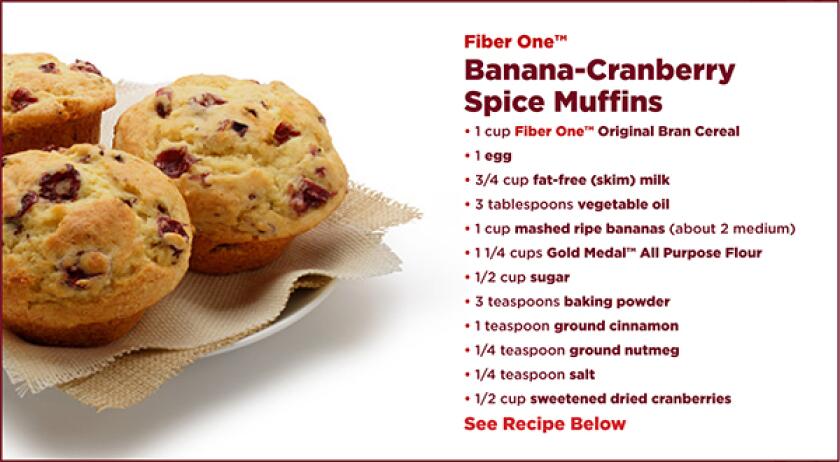 Steps


Heat oven to 400°F. Grease bottoms only of 12 regular-size muffin cups with shortening or cooking spray or use paper baking cups.
Place cereal in a resealable food-storage plastic bag; seal bag and crush with rolling pin or meat mallet (or crush in a food processor).
In medium bowl, beat egg, milk, and oil with fork or wire whisk until well mixed. Beat in bananas. Stir in crushed cereal. Let stand 5 minutes.
Stir in remaining ingredients except cranberries until blended. Stir in cranberries. Divide batter evenly among muffin cups.
Bake 20 to 25 minutes or until light golden brown. Immediately remove from pan to cooling rack. Serve warm.
Eating fiber-rich foods is an essential part of a healthy lifestyle. The good news is this doesn't have to feel like a chore. Along with increasing your consumption of fruits, vegetables, legumes, and whole grains, Fiber One offers an easy way to achieve your fiber intake goals. Enjoy their line of cereals on their own or incorporate them into a wide range of delicious recipes.

Click here to discover the full line of Fiber OneTM cereals.



Sources:
1 https://www.mayoclinic.org/healthy-lifestyle/nutrition-and-healthy-eating/in-depth/fiber/art-20043983

2 https://www.mountsinai.org/health-library/special-topic/soluble-vs-insoluble-fiber