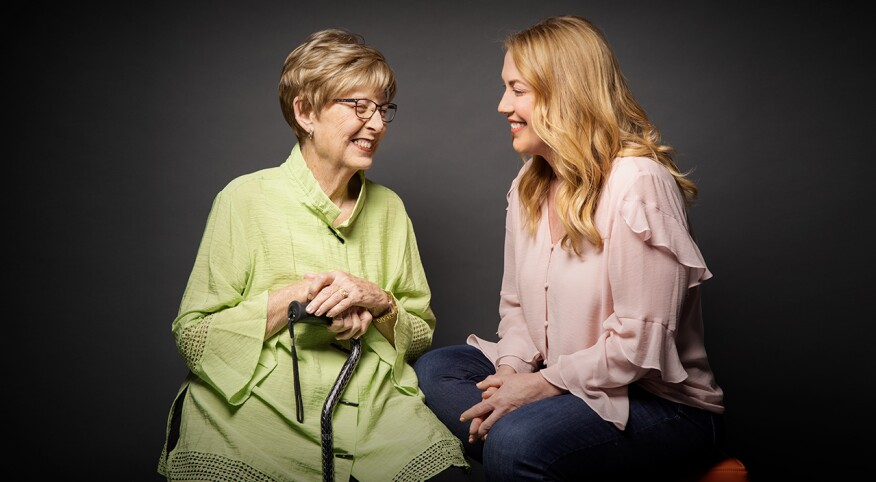 Your mother forgot to take her medication again. Your father recently had a fall. As loved ones age, it can be hard to talk to them about making lifestyle changes. But these conversations may be necessary so they can stay safe and healthy in their own home.

The fact is most people want to remain at home as long as possible, something you probably wish for your loved ones, too. And happily, there's a good chance they'll be able to…they may just need a little help. Hiring an in-home caregiver can help you stay on top of medical details, assist with day-to-day needs, run errands, and more. This can go a long way toward providing peace of mind and a better quality of life for you and your loved ones.

But how do you start the conversation that can lead to this level of care? How do you guide a loved one down the path that lets them stay at home? These strategies are a great place to begin.

Gather information on the current situation and any emerging concerns.
The first step is to assess how much help your loved one needs. Pay close attention the next time you visit, and listen to your instincts. Is your loved one having trouble getting dressed, bathing, or completing other necessary tasks? Is memory loss an issue? Can they use household appliances safely? If possible, consider accompanying your loved one to their next doctor's appointment to get first-hand information on health issues or medications. All these details will help you better understand what kind of assistance would be valuable.

Plan the conversation and who will be involved.
Before sitting down to talk with your loved one about future steps, reach out to family members or anyone else you think would want to be part of the conversation. Fill them in on the situation. They may also bring to light important details you're unaware of. Together, map out what you'd like to say. Include goals you're hoping to accomplish and key messages you want to get across. Be aware that people have different communication styles and, overall, aim to keep wording positive, leading with love and concern. Express to your loved one that you're there to support them and find solutions together that will let them stay at home.

Anticipate emotion.
Significant changes are never easy, whether you're eight or 88. So, to help keep your loved one from feeling ambushed, begin the conversation by making room for their wishes and concerns. Ask what's important to them and what they might be worried about. Then, state your own concerns and ideas about possible steps to ensure both freedom and safety. Your loved one may be resistant. If so, honor the emotion and acknowledge the difficulty of the situation. Instead of arguing, focus on compromise and the big-picture goals.

Get help.
You want the people most important to you to feel loved and cared for, to be healthy and safe. So they can stay in the environment that brings them the greatest comfort. And sometimes, outside help is what best accomplishes all those desires. The conversation that gets you there may be uncomfortable. But with a careful assessment of your loved one's needs, a clear sense of everyone's goals, and a discussion that leaves space for emotions that may arise, together, you'll find a way forward.

Right at Home has been a trusted in-home care leader for more than 27 years. They help thousands of families nationwide navigate the aging journey and may provide various services, from help with household chores to a ride to a doctor's appointment to nursing and specialty care services*. Right at Home's caregivers help seniors live successfully at home or wherever they call home.

Right at Home's RightConversations® Guide gives tips and simple steps to help your family develop a communication plan as you look ahead to the future.

Click here to get the Right at Home RightConversations® Guide for free.


* Most Right at Home locations are independently owned and operated, and services may vary by location.